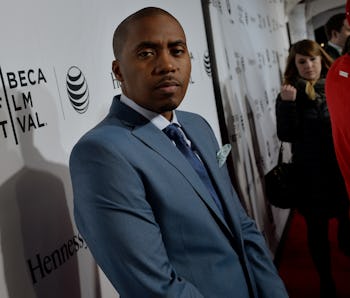 Entertainment
Nas's Stacked Resume Now Includes a Ghostbusters Collaboration 
Rapper, Investor, Businessman, and now (to the public) lover of all things Ghostbusters.
Getty Images 
You should take a page from Nas's mental business plan, if you haven't already. The rapper, entrepreneur has taken on a handful of gigs throughout his life, collaborating with brands and staples that the masses adore — from Hennessy to now Ghostbusters. Today, Nas revealed a collaboration between Ghostbusters and his clothing line, HSTRY, in promotion with the reboot of the classic film (in theaters July 15).
To celebrate this partnership, while we wait for the buy-link to the Who Ya Gonna Call? crewneck sweater, here's a peek at Nas's resume, specifically the experience portion.
Nasir Jones
Queens, NY
Experience
Brand Ambassador, Sweet Chick, 2015
The New York City restaurant, specializing in delicious chicken and waffles, recruited Nas to represent. Sweet Chick looked to Nas to "move forward with a 'NY State of Mind' and introduce Sweet Chick to a bigger audience," including him in the plans to expand.
Alongside Pete Tong, Richie Hawtin, Tiga, and John Acquaviva, Nas was one of the backers who helped fund cloud-based mastering service LANDR. They raised a total of $6.2 million.
Investor/Coach, Koru, Seattle, Washington, 2014
Nas teamed up with job placement company Koru to fund scholarships for 10 college graduates to attend Koru's training program. Nas also joined the team as a mentor to the students. Prior, Nas partnered with NYC's coding school General Assembly, offering scholarships to young Latinos and African American students.
Co-Founder, Mass Appeal Records, New York, NY, 2014-Present
Nas partnered with Peter Bittenbender to launch an independent record label, and recruit a new generation of promising rappers like Boldy James, Bishop Behru, and Fashawn.
Owner, HSTRY Clothing, New York, NY, 2013–Present
Nas's clothing line was first introduced in fall 2013, but relaunched in 2014. He's delivered capsule collections and limited edition tees, such as the Black HSTRY Month black tee. He recently debuted a collaboration with Ghostbusters in time for the all-female reboot of the classic.
Investor, Proven, San Francisco, CA, 2013–Present
With plenty of gigs under his belt, why not give a hand to those who want as much? In 2013, Nas dipped his feet in the million funding pool and invested a few dollars into the San Francisco company whose app helps job seekers search and apply for jobs via their smartphones.
Brand Ambassador, Hennessy, New York, NY, 2013–Present
Nas may have strayed from Hennessy at one point, but not too long ro pass up an opportunity to be its brand ambassador. To this day, you rarely see Nas at an event or a video shoot without a bottle of Hennessy in one hand. I think he deserves a raise, Hennessy.
Associate Publisher, Mass Appeal, New York, NY, 2013–Present
Alongside Bittenbender, Nas raised $1.2 million to relaunch the notable art and culture publication. It's been going strong ever since its rebirth.
Co-Founder, 12Society.com, 2012–Definitely Not Anymore
Lifestyle retail site 12Society.com was a platform where for $39 a month you'd receive a monthly personalized package, worth $125, which included "handpicked apparel, gadgets and other premium products that stars use in their everyday lives." Not so lit anymore though, since the site seems to be more unless he now favors printed tees with cursive font.
Business Partner, Guerrilla Union, New York, NY, 2012
Nas partnered with the machine behind Rock the Bells, contributing his take on performing acts. He's been wanting Kanye West on the stage, but that's still TBD.
Owner, 12AM: Run, Las Vegas, Nevada, 2012-Present
It's only right for an artist as successful as Nas to own a sneaker store, if not design one sneaker. In 2012, Nas went with the latter and opened a sneaker boutique and made one of his many dreams "come true." Time to own one of his own.
Co-Owner, QueensBridge Venture Partners, New York, NY 2010–Present
As, his manager Anthony Selah, and four other partners have invested in over 40 each start-ups through their own investment company, QueensBridge Venture. Some the startups they've invested, since six years ago according to Selah, include Dropbox, Genius, Luft, Nation Builder and more.
Rapper, Queens, New York, 1991–Present
One of the best rappers alive. Need we say more?