Hulu's 'The Path' With Aaron Paul: What You Need to Know
The new Hulu drama has us asking questions about humanity through lenses of belief, doubt, family and truth.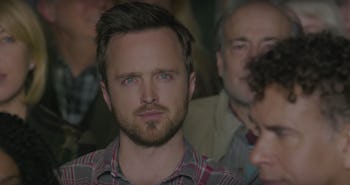 Hulu
Hulu's new drama, The Path premieres tomorrow, March 30th.
Created by Jessica Goldberg and executive produced by Jason Katims (Friday Night Lights, Parenthood), The Path follows Eddie Lane (Aaron Paul), his wife Sarah (Michelle Monaghan), Cal Roberts (Hugh Dancy) and a host of others whose lives are inextricably intertwined with the Meyerist Movement, a religious organization that is, to be blunt, a cult.
Set largely in Upstate New York, The Path tackles some of our most human questions through the lenses of belief, doubt, family and truth. At its core, it's about what happens when your worldview is fundamentally shaken and begs the question, "If discovering the truth means unraveling your life and the lives of those around you, are you willing to live a lie?"
The Cult
As a show about a cult in a world in which the most public cult is Scientology, the inevitable comparisons have arisen, and there are bound to be unavoidable parallels, if only because Scientology is probably the contemporary cult with which viewers are most familiar. Even so, in an interview with Deadline, Goldberg shot down the idea that the show's "Meyerist Movement" was based on Scientology. "I wanted to imagine my own…I wanted to invent my ideal faith. And then, of course, with any faith, there's a dark side to it. I felt it would be too narrow, and wouldn't allow us the same storytelling opportunities, if we put this into something that already existed."
No matter the origins or comparisons, though, The Path's Meyerist Movement is hardly the show's star. More of a vehicle for pushing people and ideas to their logical boundaries and breaking points, the Meyerist Movement is perhaps comparable to the blue crystal meth of Breaking Bad, the last project in which Aaron Paul found himself at the center of a whirling dervish of trouble. The Meyerist Movement is a vital central element in The Path, but works as more of a uniting force and backbone for the actions and reactions of the show's characters.
The Characters
For all of its dark and sinister undertones, though, The Path has moments of Katims' signature gentle touch. Make no mistake: this isn't a cult-y Parenthood, but it does focus on a central family in the same style of both Friday Night Lights and Parenthood. We even see in the trailer a scene that would've hardly seemed out of place in the latter show: a large extended family sitting together around a rustic (but very Pottery Barn-chic) outdoor table, jovially exchanging bowls, plates and smiles.
The stark contrast between the intrinsically seedy underbelly of a cult and the touching closeness that's evident in Eddie Lane and his family's deep devotion to one another serves to highlight the degree to which the Meyerist Movement has become embedded in their lives. They are not unhappy, tortured people — quite the opposite, in fact. At least at first.
A look at almost any of the other scenes in the trailer serves as proof that things will not carry on this way, though. Things are about to get complicated, dark and dangerous, leading Eddie Lane, his family, and everyone who finds themselves entrenched in the Meyerist Movement to ask themselves if they know the truth behind their organization and, more importantly, if they want to.
The Path premieres tomorrow, March 30th, on Hulu and will air weekly.