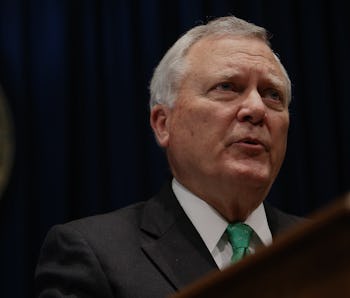 Mind and Body
Georgia Governor Vetoes "Religious Freedom" Bill Under Pressure From All Sides
Facing pressure from gay rights activists and major businesses, Deal vetoed HB 757 in a major blow to religious conservatives.
Getty Images
Georgia Governor Nathan Deal has vetoed a controversial "religious freedom" bill that would have allowed faith-based discrimination against LGBTQ individuals in his state. Deal was under tremendous pressure from a few sides to do just that, including leading movie and TV production companies.
The legislation in question, House Bill 757, had drawn criticism from such companies as Apple, Time Warner, and the NFL. Several prominent studios, including the Walt Disney Company and the Weinstein Company, declared they would boycott business within Georgia should the bill pass.
At a news conference today, Deal addressed explicitly the controversy and strong emotions that surrounded HB 757. Listing examples from New Mexico and Colorado where such a bill might apply — a photographer refusing to photograph a same-sex marriage, a bakery refusing to provide a cake — Deal said that no such incidents had ever occurred in Georgia. He also said that he would not be bullied, and that he did not look kindly upon religious leaders who would question his moral character in light of this decision, just as he did not look kindly upon those threatening to withhold business if they didn't get the outcome they desired.
"I do not think we have to discriminate against anyone to protect the faith-based community in Georgia of which my family and I are a part of for all of our lives," Deal continued. "Our actions on HB 757 are not just about protecting the faith-based community or providing a business-friendly climate for job growth in Georgia. This is about the character of our State and the character of its people."
The pressure on Deal to support the bill came from prominent members of the religious community across Georgia as well as from within the Senate Chamber. State Senator Bill Heath previously threatened to call for a veto session to overturn Deal's decision in the event of a veto. Senator Greg Kirk, the bill's sponsor, has also stated the bill is "about equal protection and not discrimination" in his efforts to get it to pass.
The Atlanta Journal-Constitution noted the similarities between HB 757 and the federal Religious Freedom Restoration Act, "requiring government to prove a "compelling governmental interest" before it interferes with a person's exercise of religion. And it includes a clause saying it could not be used to allow discrimination banned by state or federal law."
The state is currently home to 31 film and TV shoots, including The Vampire Diaries, the upcoming Baywatch reboot, and The Walking Dead.
Last week, the Weinstein Company promised to join the boycott should the law pass: "The Weinstein Company will not stand behind sanctioning the discrimination of‎ LGBT people or any American," the statement read. "We have plans in place to begin filming Lee Daniels' new film in Georgia later this year, but will move the production if this unlawful bill is enacted. We hope Governor Deal will veto bill HB 757 and not allow sanctioned bigotry to become law in Georgia."