Nickelodeon's 'All That' Cast Is Reuniting, But Not Everyone Will Be There
Nostalgia and wide open schedules collide for 'All That' reunion on Nickelodeon.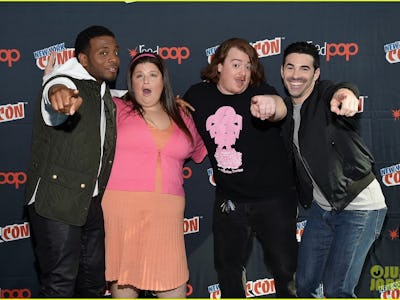 justjared.com
The Splat, Nickelodeon's nightly block of programming, gives Clinton-era kids a rush of nostalgia. From 10 p.m. to 6 a.m., the Splat shows a rotating block of classics from the 90s, including Hey Arnold! and Rocko's Modern Life. In April, the Splat will drop a time bomb on fans and bring some of the core cast members from the teen sketch comedy show, All That, back together.
Cast members Danny Tamberelli, Kel Mitchell, Josh Server, Lori Beth Denberg, and Kenan Thompson will reunite for the special, which is set to air in April. While details are still scarce, the trailer hints at some cast commentary, accompanied by old sketches from the show. Of course, for original fans of the show, which ran from 1994 to 2005, that's not necessarily a bad thing.
Given the recent slew of nineties-inspired callbacks on TV, something like this isn't unexpected. It also helps that most of the cast hasn't achieved any notable stardom. While all of the returning people have kept themselves busy, few of them have engaged in high-profile work. If you discount Amanda Bynes (who will not be returning for the special), the biggest star to come out of All That is probably SNL-regular Kenan Thompson, who still feels All That following him around.
As he recently joked, he's been on SNL for "13 damn years and people still ask me twice a week, 'Where's Kel?'" I guess we're about to find out.