'Grand Theft Auto' Invincible Deer Cam Exposes Income Inequality in San Andreas
An entire fake city is playing the world's most frustrating game of 'Big Buck Hunter.'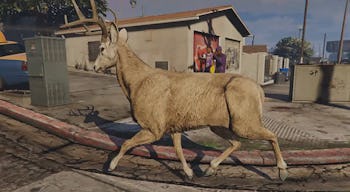 brentwatanabe.com
A deer is rampaging through the streets of San Andreas, California. That's the fictional 100-square-mile city created for Grand Theft Auto V, and the deer is taking it by storm. Tearing through intersections, slamming into cars and perusing the city's notorious gang violence, the San Andreas deer is giving us a dose of real life in the embattled city.
The San Andreas Deer Cam provides live updates for the deer's activities in the city streets, and San Andreas really does appear to be a tough place to live. Even without the user-generated acts of mass violence so characteristic of Grand Theft Auto locales, the deer faces major challenges to its daily wanderings. Cars and trucks frequently knock it to the ground, but so far, the deer has proven near-invincible. The deer has even meandered into some local gang violence and had to outrun the cops.
Brent Watanabe modified Grand Theft Auto San Andreas to include the husky deer, and he posted a live stream of the animal's activities online. The deer is completely autonomous and never stops, taking viewers on a long, winding trip throughout the city. Sometimes running, sometimes walking, the deer struggles with traffic and the generally harsh environment. A feed of comments provides a secondary soundtrack to the deer's shenanigans.
The stream captures a real sense of drama, since we all know the dangers that lurk in a city like San Andreas. Whether it's walking along train tracks, sneaking into the airport, crossing a busy intersection or passing through the rough part of town, you're never far from some heavy shit. Even among users who have been responsible for mass death in San Andreas, it's hard to root against the deer. But of course, if the deer did become a fixture of San Andreas more broadly, we can only imagine the terrible fate that would befall it.