HBO's Nora Ephron Documentary "Everything is Copy" is For Fans and Newcomers Alike 
You don't need to be a diehard Nora Ephron fan to appreciate this documentary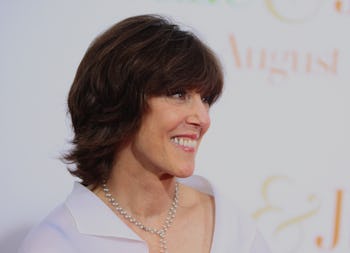 You might expect a documentary made by its subject's son to paint a boringly sanitized or idealistic portrait. But Everything is Copy, the HBO doc about Nora Ephron helmed by her son Jacob Bernstein, is a searingly honest portrait of the late writer that will prove engaging to Nora Ephron fans and newcomers alike.
The doc covers her entire life without favor or omission, including relationship failures like her very public divorce with famed journalist Carl Bernstein. A standout moment is an interview between Bernstein and his son Jacob, in which Bernstein explains that he fought against the release of Ephron's film Heartburn — which presented a thinly veiled account of their divorce — because he didn't want to color his children's impression of him. "I think it did" Jacob says, sounding startled.
It also chronicles her relentless ambition, interviewing everyone from her book editor to her frequent collaborator Rob Reiner to the first person she ever fired in high school — "She said she didn't fire me," he explains, "But it was the first time I'd ever gotten fired! I remember!"
Everything is Copy is exhaustive, and includes interviews with friends, family, and colleagues who talk about how tough Ephron could be. It even features Steven Spielberg talking about how he just wanted her to like him.
Sleepless and Seattle and When Harry Met Sally don't need to be your favorite movies in order to enjoy the documentary — though if they are, the film's got some juicy insider information. (The first kid who was supposed to play Tom Hanks's son was too starstruck to act in his presence, and Ephron was the only person on the set willing to fire him).
HBO always excels at documentaries, but this one is a particular standout: Like Kurt Cobain: Montage of Heck, it strikes a perfect balance between her life, her work, her loved one's voices, and her own voice, but it's shorter and more focused, and it's (obviously) not as intense as Going Clear: Scientology and the Prison of Belief. Everything is Copy is informative, thoughtfully made, and doesn't overstay its welcome — and like Ephron's writing, it will often make you laugh and think.
Everything is Copy is now showing on HBO and available for streaming on HBO Go.