Harrison Ford is Trolling 'Star Wars' and Han Solo Fans
In the wake of Han Solo's death, Harrison Ford has been making the rounds and messing with fans all the way.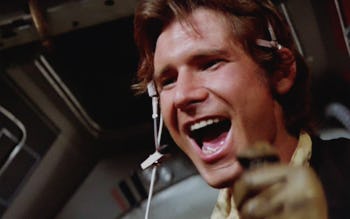 screenrobot.com
In anticipation of the April 5 release of the Force Awakens on DVD, Harrison Ford has been dutifully doing the rounds to celebrate Han Solo's death. I say "dutifully" because Ford has been showing up, looking spiffy, and talking to the host as required. Beyond that, it's pretty clear that Harrison Ford does not give a fuck about what fans think of his answers. And the results have been amazing. The actor, who has developed a reputation in previous years for being a bit of a grump, has been in unusually high spirits as he's done the interview rounds. And you have to give credit for that change to the actor's newfound ability to screw with his fans.
Here he is on Jimmy Kimmel refusing to talk about Han Solo's future in the Star Wars Universe:
The actor has consistently remained tight lipped as people ask the obvious question: Is Han Solo really done? Like, for good? Ford seems to be thrilled about the questions. Yet, that joy seems most likely due to the fact that Harrison Ford is finally rid of the smuggler.
It's no secret that Harrison Ford wasn't exactly a big fan of Han Solo, the character who turned the actor into a household name. While in recent months, the actor has been all about professing his love for the character (I didn't want to see him go, but he had to die), it wasn't too long ago that the iconic actor known for his various action hero roles (and that one Oscar-worthy movie) was telling ABC News that he found the rogue, "not so interesting."
And now that he's out, he's not mincing his words when it comes to his time as Han. Of course, he's following those words with solid material:
His advice to the next Han Solo? "Don't do it." Sure, he follows that truth bomb with the repeated use of the same "put in 25 years" joke he used on Kimmel, but his warning for a new Solo somehow rings true.
It seems like Harrison Ford feels like he's on his way out the Star Wars door, and he's happy to dance a jig as he goes. And why shouldn't he? He put in his time … 25 to 30 years, as I understand it.