CERN, Home of the Large Hadron Collider, Now a Hotbed of Homophobic Scandal 
Abuse targeting the particle physics laboratory's LGBT community has been ongoing for years.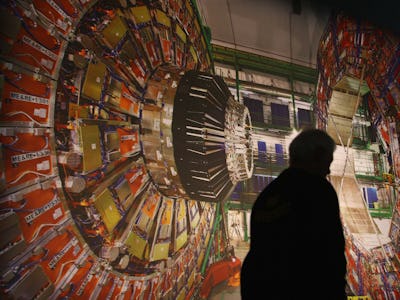 Sean Gallup/Getty
As Europe's celebrated particle physics lab and birthplace of the Higgs boson, CERN (Conseil Européen pour la Recherche Nucléaire) has been crucial in developing unifying theories about the known universe. It makes it especially ironic, in light of its scientific successes, that the laboratory is also home to a war over homophobia just beneath the surface.
LGBT CERN, the Geneva-based laboratory's official LGBT "informal network", told The Sunday Times that posters advertising its events have been vandalized with words like schwein — German for "pig" — and Biblical references calling homosexuality an "abomination" and calling for gays to be "put to death." The story, which ran on Sunday, is unfortunately not a recent development; as Physics World reports, the horrific acts have been going on since at least 2012.
People ripping down posters within the massive laboratory has become "a common occurrence," the LGBT CERN website stated on Sunday. Up to one-third of the posters put up over a two-week period have reportedly been taken down or defaced.
The group has expressed its appreciation for the swift discipline handed to an individual who was caught on CCTV cameras defacing the advertisements, noting that the German graffiti or threats from the oft-cited anti-homosexuality quote by Leviticus are "thankfully rare."
A laboratory that has long taken pride in its collaborative and cross-cultural approach to science, CERN leaders addressed the issue in an article published in November 2015 on the CERN website. Written by CERN's then director-general Rolf Heuer, the post "unequivocally condemn[ed] acts of defacement to the LGBT community's posters" and called on the community to show respect for individual differences: "Doing so is part of CERN's identity," he continued. "It is part of humanity."
The lab hasn't responded to the latest wave of media attention to its ongoing homophobia scandal. As of the beginning of this month, LGBT CERN hasn't noticed any change in the rate at which its posters have been taken down since Heuer published his article, Physics World reports.
While many have has rallied to support LGBT CERN, the vitriol has continued online. In response to one hate-filled comment condemning the publication of sexual preference on its Facebook page, the organization wrote: "Your ignorant bigotry justifies why we need to publicise our group even more. Thank you for your support in this matter!"