Elon Musk's Mother Reflects on Life as a Model
In an interview with New York, the matriarch looks back on five decades.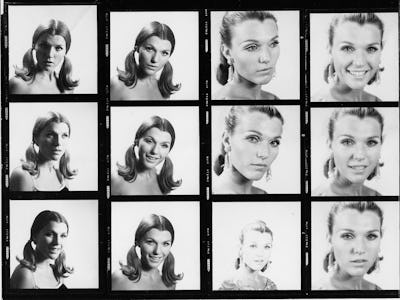 mayemuskmodel.com
You may not believe that Elon Musk was once a real human child. But if there's one person who can attest to it, it's his mom, dietician and model Maye Musk. But in a recent interview with New York magazine, she did reflected on her career and life as a model and mother.
My website shows five decades of modeling, and that includes the '80s when I was a plus-size model. When I was 15, my mom's best friend had a modeling school and she gave me a free modeling course and I started being booked for jobs. When I was 20, my friend entered me for a beauty competition and I became a finalist for Miss South Africa.
Musk went all the way from 15-year-old youth model to 20-something bombshell Miss South Africa finalist to plus-size modeling and back again. The only mention her young entrepreneur gets in the interview is as the brief cause of a modeling hiatus that came ahead of her stint as a plus-size model.
After this, I got married and had three kids in three years. There were no pregnant models at that time. Then I got divorced and moved to a new town. I had years of being a careful eater and then I started eating everything and gaining weight. I gained 40 pounds, which is not that hard when you loved eating fried food. I did enjoy eating whatever I felt like. And then I became plus-size at 32 and became a popular model for that.
Musk's voyage in the plus-sizes was an unplanned but fortuitous break for her career, allowing her to distinguish herself in an area that is still neglected. Nonetheless, she says she came back down to a size 6, and now she has no intention of going back.
My biggest wellness struggle is: Temptation. When I go visit my grandkids, and I eat a healthy dinner, they'll eat their ice cream or cookies or whatever. I don't touch them. I can't. You have to know your trigger foods, and for me it's sweet foods. When it comes to wellness, I have to eat well most of the time. When I overeat, it takes me about two weeks to get the weight off.
And it's kind of incredible that, with a son worth $13 billion (according to Forbes), she's still in the modeling business. She models clothes and appears in magazines. She isn't pretentious either. You may have seen her as one of the silver-haired grandmothers casually leading a stock granddaughter down the beach.
Maye Musk has definitely kept up her game in recent years, a skill she attributes to controlling how she eats and not jumping on any of the latest fad diets.
When I'm on a modeling job, I don't try to let people know I'm a dietitian. They'll say, I juice every morning. Yeah, I don't juice… You can't fool me. If there is a food or supplement claim, I want to see it. I won't be the face of a supplement that doesn't do what it says it does.
She stresses the importance of keeping a positive attitude, especially for women in their later years, though, admittedly, this might be somewhat easier for a woman with a son who has the resources to colonize another planet and who even she admits has always possessed a timeless elegance, even going back to her days in South Africa.
The interview does a good job of showing how a young South African model learned to take control of her own career, even through childbirth, divorce, and one of her sons growing up to be able to provide her with literally anything she could desire at any time. With all the resources of the world's riches at her disposal, her greatest temptation is sweets!
That's a lot better than Elon Musk himself, whose treats are a little more — in the words of his then-fiancee in this 1999 video — "decadent."