New Fave Alert: Geek Artist Jeff Langevin
The winner of BBC America's 'Orphan Black' poster contest has a portfolio that goes way past Leda and Castor.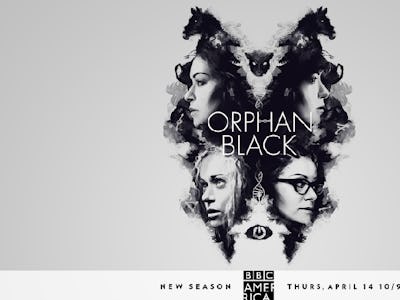 BBC America / Jeff Langevin
Say hello to your new favorite geek artist.
Entertainment Weekly announced today that the winner of BBC America's Orphan Black poster contest is artist Jeff Langevin, and Oregonian who has done work with video game publisher Square Enix.
The design, inspired by Kira's origami butterfly from Season 2, features references to the essential pieces that make up Orphan Black. Langevin told Entertainment Weekly, "What I hope the image conveys is that the clones are parts of a connected whole, and that these other elements — Castor, the Neolutionists, the sheep mask clone, Rachel's code, etc. — are all inexorably intertwined in their lives."
The contest-winning Orphan Black poster is far from Langevin's only stellar geek art creation, though. His website, Instagram and Etsy shop are full of pieces inspired by some of our favorite franchises, like Star Wars, Mass Effect, Harry Potter, Mad Max: Fury Road and Tomb Raider.
An artist and designer, Langevin's work includes projects for clients like Square Enix and comic book publisher Darby Pop Publishing. On his website, he describes his work as "emotional, figural paintings which explore the relationship between humans and nature, artistic interpretations and graphic works inspired by popular culture, and a wide variety of branding and logo design."
Some of Langevin's works have a beautiful painterly quality about them while others lean more towards vector illustration or highlight key elements and objects from books and films.
There are a lot of ways to express and entrench yourself in fandom, but they can't all look this damn good.