'Inside Amy Schumer' Season 4 Teaser Proves She Doesn't Care About Your Opinion of Her
Season 4 premieres April 21st and Amy Schumer's not about to miss it for a little case of overexposure.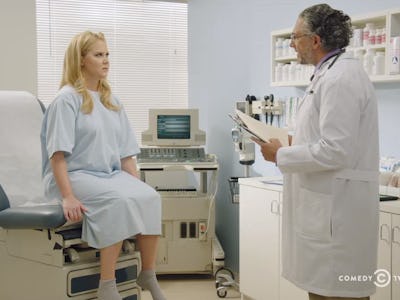 Comedy Central
A new promo for the upcoming season of Inside Amy Schumer shows the star getting some bad news from her doctor. The diagnosis? She's been overexposed.
That'll happen when you have a smash hit film, host awards shows, debut a comedy special, and win Emmys.
The cure? "Go away for awhile." Not that Schumer will heed that advice.
The premise of the promo is a clever callback to a comment from one of the show's writers, Christine Nangle, who accepted an award for on Shumer's behalf at the TV Critics Association Awards in August. "Amy wanted to be here," Nangle said, "but unfortunately she couldn't. She's being treated for overexposure."
Schumer and executive producer Dan Powell told Entertainment Weekly that Season 4 of Inside Amy Schumer is going to "lean in" to the dramatic changes that overcame Schumer in 2015. After an Emmy win, the release of Trainwreck, an increasingly public private life, and best-friending Jennifer Lawrence, she's significantly higher-profile than she was when the last season premiered.
The new season premieres April 21 on Comedy Central and, according to Entertainment Weekly, has a number of guest stars slated for appearances, including Lin-Manuel Miranda, Steve Buscemi and Selena Gomez.