New 'Tarzan' Trailer: Apes and Abs in a Battle for King of the Jungle
Alexander Skarsgard's gone from vampire to vine-swinger. But is it any good?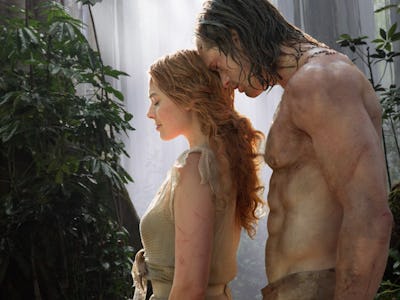 The Legend of Tarzan, the latest reboot of a century-old adventure story, dropped its first trailer on Thursday. It's brimming with impressive spectacles of CGI, from apes who surprisingly aren't played by Andy Serkis and abs that unsurprisingly are played by Alexander Skarsgard (with, perhaps, some more subtle CGI work).
The movie also stars Samuel L. Jackson, who is presumably doing this while he awaits a green light for Snakes on a Plane 2, Suicide Squad's Margot Robbie as Jane, and Christoph Waltz as a vaguely accented villain — because of course.
If you're thinking all this actually doesn't sound half bad, you might be onto something. Skarsgard is good at going balls-to-the-wall with whatever material he's got, the visuals are stunning, and the trailer reveals a coherent story, unlike, say, Gods of Egypt.
At any rate, if the gritty new Jungle Book doesn't contain enough monkeys or abs for you, the gritty new Tarzan should cure your woes.
No apes were harmed in the making of this film. As for Skarsgard's abs, it's presently unclear. The movie debuts on July 1.