Why Haven't You Heard of 'Party Over Here'?
The new sketch comedy show aims to compete with SNL, but for what audience?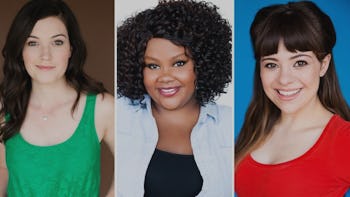 On Saturday night, Fox debuts a new sketch comedy show with an all-female cast that dares to challenge Saturday Night Live just before its own, cement-strong time slot. (SNL airs at 11:30 pm Eastern, so Party Over Here is adding 30 more minutes of sketch to Saturday night, which no needs, wants, or requested.) Big comedy names, including SNL alums, are behind Party Over Here, so why has no one heard of it?
From the press site:
New late-night half-hour sketch comedy series PARTY OVER HERE will premiere Saturday, March 12 (11:00-11:30 PM ET/PT) on FOX. The series is executive-produced by the Emmy Award-winning and Grammy Award-nominated comedy trio The Lonely Island — writer/performers Andy Samberg, Akiva Schaffer and Jorma Taccone. Actor/comedian Paul Scheer ("The League", "Fresh Off The Boat") also will serve as an executive producer and one of the series' directors.
Right off the bat, there's a pretty big problem here in that none of the actual on-camera talent from the show is mentioned. Jessica McKenna, Nicole Byer, and Alison Rich are all tremendously talented performers and comedians, so why are we burying their stories behind producers? Even the first clip released focuses on The Lonely Island overseeing the show, instead of letting the cast do its thing.
Even the The Hollywood Reporter has helped forward the idea that no one here is declaring war on SNL:
"The first thing we said to Fox was, 'We'll never go against SNL,' so we made sure that we ended before they start," said Schaffer to an intimate group of press on the set of their new sketch comedy entry, Party Over Here. "We wanted to do something new and exciting and fun but we didn't want it to have any direct conflict," added Samberg. "We want to be asked back! We're not, like, raging war on SNL. That's still our home and our family."
But that's the problem: Who is the audience for this show and where is the promotion? Is Fox already hedging their bets?
Since Party Over Here was announced in February, I've had high hopes, but it doesn't seem like Fox has the confidence in either the format or the talent to put in the effort required get this show off the ground. So maybe set aside some time on Saturday to catch this show, in case it's your last chance.