Coachella Has a VR App for People Who Hate Being at Coachella
Need a distraction from the multi-day festival you're attending? Coachella is here to help.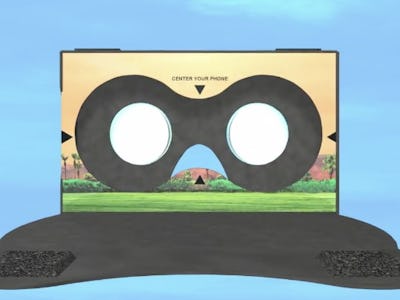 In the latest example of VR integration for the sake of getting to say "VR integration," Coachella has announced a makeshift VR viewer and app for this year's music festival. Using the same box design as Sweden's Happy Meal VR box, this unit will make things decidedly more VRish in Indio, California during two weekends in April.
Ticket holders will receive cardboard headsets in the mail, which they can partner with a smartphone app to view enhanced performances, 360-degree panoramas, and tours of the festival grounds. Some performers, including Matt & Kim, have already filmed 3D content exclusively for the app.
Attendees will be able to create and share their own virtual reality experiences as well. The app will be available on iOS and Android, and will update before, during, and after the festival. The website for the app recommends a strong Wi-Fi connection and promises that users will be able to create and share their own footage.
All of this begs the question: Why?
No one wants to wear a cardboard box over their head while walking around the Polo Grounds in order to experience a phone-filmed version of what they're standing amidst in reality. It feels like there would be a cool application of this technology to sell an internet access version for people who can't make it to the festival, so giving this only to concert-goers who will already be there seems redundant at best — and reductive to the entire Coachella experience, at worst.
I shouldn't be surprised that Coachella is doing something trendy for the sake of being trendy, but maybe a $22 cardboard box that goes over your head at a concert is something that we all could've skipped.
Here's a short promotional video that teaches you how to build a box to hide your shame within: