Insane 'Mr. Robot' Season 2 News Continues with Craig Robinson Stunt Casting
Robinson joins a burgeoning reformed cast for the Sam Esmail-helmed USA hacker show.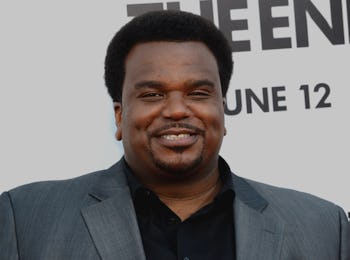 Jason Kempin / Staff/Getty Images
Fans of Mr. Robot should reasonably start to become skeptical about the unexpected USA hit's upcoming second season. The show, by all accounts, is not relegating itself to the same basic characters and situations, but it's undergoing big changes in creative forces. The first major news came in December, when it was announced that creator Sam Esmail would be directing every single episode of the new season. Thats an extremely uncommon amount of creative control for a showrunner to have, and the prospect is a bit frightening. Do we trust Sam Esmail to allow checks and balances for himself, or will Season 2 of the show just be completely indulgent insanity? One could imagine Eliot's story spinning off the rails into some post-Hannibal, hallucinatory netherworld, which could be either sort of revolutionary for cable television. Or really stupid.
Whatever happens, Season 2 should be interesting, and the recent casting news t confirms the fact that fans should expect the unexpected. Following Friday's news from the past week that Sorority Row's Chris Conroy, The Newsroom's Grace Gummer and — much more notably — Brooklyn rapper Joey Bada$$ have signed on for the upcoming season, it was confirmed today that The Office and Hot Tub Time Machine comedian and actor Craig Robinson would be joining the gang. His role? "…a neighborhood local who reaches out to Elliot in his time of need," Entertainment Weekly reports. Bada$$ is also pegged as "a friend of Elliot's from the neighborhood, who tends to talk a lot and advises the show's protagonist on life and its many meanings."
From the information we currently have, one can only imagine a show stacked high with even more insane people who walk casually into Eliot's apartment to talk at him, pushing him into even deeper paranoia and fear of human interaction. We'll be going into Mr. Robot's 2nd season — which is beginning production now — with a very open mind, and preparing for a possible harsh let-down.