"Go Fucking Work" Chrome Extension Shames You Back Into Productivity
For the rare procrastinators who walk among us.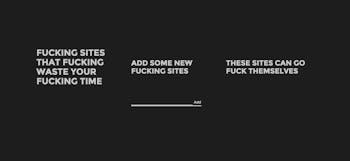 Go Fucking Work
Ontario-based developer and entrepreneur, Alexander Lam, took some time off from work to make a beautiful, utilitarian extension. Its name? Go Fucking Work. Its function? To get you to go fucking work.
Go Fucking Work was released to the world on Saturday. It is rude by design. This extension's label is a dead-serious middle finger. Its installation page verges on militant and warns of "Mature content." Its sole purpose is to prevent you from visiting certain time-sucking sites.
The product's description has a distinct "old man yells at cloud" vibe. "Go do some FUCKING work," it says. "Stop being an unproductive little shit. Block fucking time-wasting websites. Every time you try to procrastinate, you get told to get straight back to fucking work." One imagines the world is, to some degree, listening in on Lam's inner monologue.
The sites are liable to be somewhat similar for most users. Facebook, Twitter, YouTube, and maybe some other "distracting" sites. The extension itself is wonderfully simple to operate: All you need to do is install the tool and then input the sites you wish to block. The next time you try to navigate to Facebook, Twitter, YouTube, or whichever site your higher brain does not wish your lower brain to succumb to, you'll be met with an all-caps scrawled scream. Here are a few examples:
Such productivity and filter extensions have been around for a while, but Go Fucking Work is, as far as we know, the first to openly curse at and ridicule you. And therein lies its beauty, and its utilitarianism.
For faint-hearted folks and those bound to procrastination, don't fret: The extension does come with a pause button. You can give yourself a miniature vacation that'll give you access to those select, evil websites. That vacation can last between 5 minutes and 2 days, but even that will give you some grief:
But really, if you were actually concerned with your productivity, why would you be reading this article? Either go install this extension or dust off that ancient and now-foreign human faculty known as free will. Then — whichever you choose — go fucking work.