The Longest Flight Record Will Not Last Even One Year
New routes into South America expected to shatter records.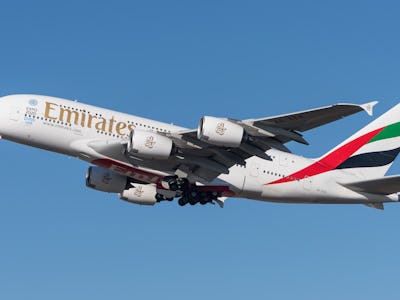 BriYYZ; Flickr
The current record for longest flight by distance, set on Tuesday by a 8,824-mile Emirates flight from Auckland, New Zealand to Dubai, won't last long.
Qatar Airways is already promising to top Emirates' feat by 136 miles this year when it sends regular flights on a 8,960-mile route from its hub in Doha to Santiago, Chile. (It is also planning to introduce an Auckland-Doha route, which may just crack the 9,000-mile threshold)
A Dallas to Sydney flight operated by Qantas Airlines remains the longest flight by time, demanding 16 hours, 55 minutes, but that record will fall as early as March 31 when Emirates inaugurates its "ultra-long-range" flight to Panama City that will take 17 hours, 30 minutes. Strong western headwinds delay eastern flights, requiring more fuel and more time to reach the destination. Nevertheless, the Dubai-Panama and Doha-Santiago flights will both soon be flying regularly.
Even those records may not stand for long though. The upcoming release of the Airbus A350-900 ULR will pave the way for Singapore Airlines to re-launch flights from Singapore to Los Angeles (8,769 miles) and Singapore to New York (9,529 miles). The Singapore-New York jaunt would take more than 19 hours to complete.
There is also talk of a London to Sydney direct route, though that 10,560 mile route remains out of reach of current technology. Boeing has announced plans for an aircraft capable of making the trip by 2020.
These trips may seem almost unbearable for those who have to make them on a regular basis, but a reporter from the New Zealand Herald who was onboard the recent Auckland-Dubai flight, said that the flight had "been a blast and the time has flown by." (He does concede that "it wasn't such an easy ride for those down in economy but we all got here in the end.")
So remember: If you're going to fly around the world, spring for business class. And if you can't, well, be happy at least you're not taking a boat.