Listen to DC's Black Canary Sing, for the First Time Ever
DC has released a three-track EP from its fictional comic book band, fronted by superhero Black Canary.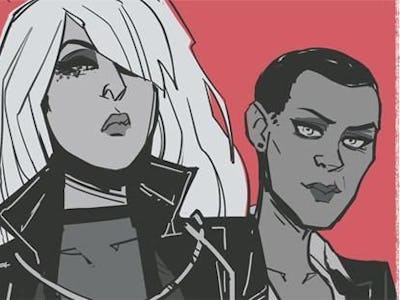 DC has been sneakily producing bonus content, including band posters and fake tour dates in Metropolis and Gotham, for its successful Black Canary comic for weeks now, and it committed to the bit fully by releasing a three-track EP from the comic's fictional band, Black Canary.
In the comics illustrated by Annie Wu, Black Canary is Dinah Lance, casual friend of Batgirl and part-time resident of Gotham's hip Bushwick-esque neighborhood, Burnside. Dinah, along with bandmates Lord Byron, Ditto, and Paloma Terrific, battles demons and rival musicians while on tour. As the hero Black Canary, Dinah has a super sonic scream, which can render foes useless. On this EP, we actually get pretty close to hearing her hit that dangerous note, at the very end of "The Man With the X-Ray Eyes."
It's a funny sign of the times, hearing a comic book character's singing voice before we've gotten to see her on screen. This EP sounds a bit like Metric, and a bit like Florence and the Machine, if someone asked them to dial it back a bit on the theatricality.
The EP release coincides with the comic's first bound volume, which went on sale yesterday.