Composer Bear McCreary Lets Us Inside '10 Cloverfield Lane'
The composer of 'Black Sails' 'The Walking Dead' and 'Outlander' talks his 'Star Trek' inspired technique for '10 Cloverfield Lane'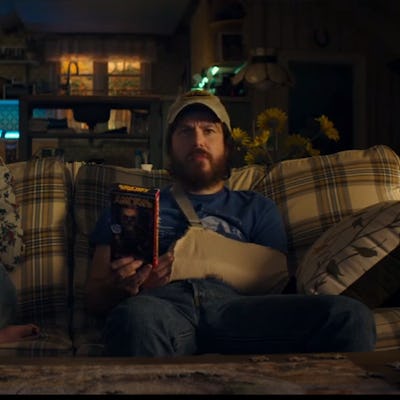 Paramount Pictures/ Youtube
Composer Bear McCreary — known for Black Sails, Outlander, and The Walking Dead — recently spoke to Inverse. The full interview will come out shortly, but as a teaser, he spilled the following tidbits about his most recent project, the mysterious J.J. Abrams helmed Cloverfield follow-up 10 Cloverfield Lane.
"I knew that there was a sense of scale and orchestral quality that has always been in J.J's projects," McCreary told Inverse. "Nevertheless, I was still wonderfully and pleasantly surprised at how far he pushed me towards making a big orchestral score for what is a very tense, intimate, claustrophobic thriller."
McCreary added, "The movie is fantastic, and one of the things I wanted to do was bring a lot of exotic colors to it. So in addition to having a full orchestra at my disposal, I experimented with something I've looked for an excuse to play my whole life: a Blaster Beam, an experimental string instrument that was built in the '70s by a man named Craig Huxley. He played it most famously on the score of Star Trek: The Motion Picture."
"In all these outer space shots, you heard this booming, echoing deep sound," said McCreary. "It was a Blaster Beam. It's an acoustic instrument. It's not an electric instrument, and more importantly, it's not an electronic instrument. I've wanted to write for Blaster Beam my whole life, and actually found Craig Huxely. He was very generous with his time and energy, and played Blaster Beam on the score to 10 Cloverfield Lane. It was really exciting."
Anyone who has seen Black Sails and its world-shattering opening credits should not be surprised that, in addition to being as far-out as Star Trek, McCreary's score for 10 Cloverfield Lane will also be grand.
"I also filled an entire recording studio with cellos," says McCreary. "It was the deepest, heaviest, punchiest sound. The sound of 10 Cloverfield Lane is deep and dark and ominous and thunderous. I had all these interesting sounds and this big orchestra, and the director Dan Trachtenberg and J.J. Abrams really pushed me to make a score that really stood out. I'm excited to see what the fan response is. It's a really cool film."
Look out for Inverse's full interview with McCreary — in which he talks Black Sails, Outlander, and The Walking Dead — coming out on the 15th.
10 Cloverfield Lane hits theaters on the 11th.