We've Finally Arrived in the 1950s Kitchen of the Future
Six decades later, Nuclear Age predictions for kitchen appliances are finally coming to fruition.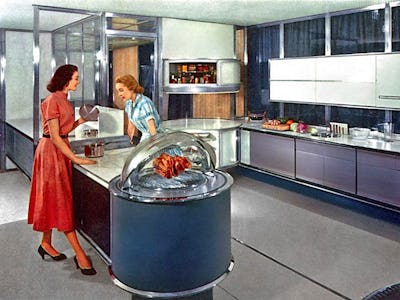 Pintrest
During the 1950s, kitchens became a weird sort of domestic extension of the Cold War. Manufacturers eager to show off the potential of good ol' fashioned American ingenuity turn to consumer goods to show off their visions of the future. Maytag, G.E., and RCA-Whirlpool created portable life-sized kitchen replicas showcasing all their best ideas for future innovations, not necessarily as a selling tool, but rather a bit of capitalist propaganda to be shown off at conventions and conferences around the globe.
Here are five of the zaniest prototypes and concepts of the day that ultimately helped predict the future of the 21st-century kitchen.
Robo Vacuums
In the 1950s, automatic vacuuming robots were a holy grail of sorts for appliance manufacturers. In a 1956 marketing poll, homemakers across the country named "hands free vacuuming" tops on their technology wish lists, and every company worth its salt included concept versions of the hands-free cleaners in their presentations. That behemoth above looks a bit like a Roomba crossed with a Chevelle, but some companies came close to perfecting remote-controlled models. It took another 60 years before Electrolux and iRobot made them a reality.
The RCA-Whirlpool Miracle Kitchen
Featured at the 1958 American National Exhibition in Moscow, the RCA-Whirlpool Miracle Kitchen ended up being a point of contention in the famous "Kitchen Debate" between then-Vice President Richard Nixon and Soviet Premier Nikita Khrushchev.
Of course, from a technology standpoint, everything in the original presentation was theoretical at best (read: didn't exist). Almost 60 years later, however, we can find a number of modern innovations that came to fruition: multi-mode ice makers, a central hub similar to modern "smart home" tablet apps, a voice activated unit for setting timers/reminders/or memos similar to Amazon's Echo speaker, and even a self-propelled vacuum cleaner.
The Rolls Royce of Refrigerators
The Kelvinator Foodarama was the peak of 1950s opulence. Advertised as the "Rolls Royce of Refrigeration," this bad boy contained several innovations including a side-by-side fridge/freezer combo, a "breakfast bar" (read: built-in egg-holders and juice containers), a crisper bin, butter keeper, and even an aluminum foil dispenser.
This behemoth could hold more than 160 lbs of meat in the freezer, and even had a special non-refrigerated compartment specifically for bananas. For all its innovation, the Foodarama was excessive even for such an era of prosperity. It stayed in production for only a few years, but visit any appliance store today, and you'll find modern-day Foodarama aplenty.
Remote Shopping
Half Home Shopping Network, half Amazon Now shopping service, a common item on the Nuclear Age wish list was a way for a busy housewife to be able to handle the shopping remotely and have the goods delivered right to the house. In this panel, we find Mom doing a little lunchtime school shopping for the little ones right there at the kitchen counter. Note the rain outside, juxtaposed against Mom's just-so hairdo, to emphasize just how delightfully easy it is.
Electric Oven
OK, there's a lot going on in this video, but pay particular attention to the electric oven at the end of the counter: "Whether you bake or broil or stew, Frigidaire kitchen does it all for you!" While we still don't have an appliance that will automatically decorate and drop the candles on a cake, Frigidaire's prediction of the oven of the future resembles a cross a microwave and one of these cool Cinder Smart Grills. Face it: You're living in the future your grandmother always dreamed of.