Universal's New Kong Attraction Looks Fun, Meaningless
Skull Island: Reign of Kong will probably be a good time, not that it matters when there's 'Star Wars' on the Disney horizon.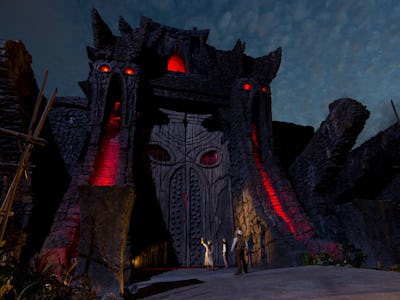 Universal
Today, Universal released a video that doles out some more information about its coming attraction, Skull Island: Reign of Kong. It's yet another attraction that, while looking totally fine, will be easily outgunned by Disney's Star Wars attractions when they land. But there's a few reasons to get excited.
In the video, Mike West, Universal Creative's Executive Producer, talks about the scale of the attraction and about the premise. Framed as an expedition-turned-fight for survival, the ride is centered around big vehicles (West calls them "expedition trucks") that'll likely bump and trundle along in close proximity to dinosaurs and the super-sized primate himself. It will probably be a good time, not that it's really going to matter much as Universal will likely uphold its long-held tradition of doing what Disney World does, just slightly worse.
Universal's Islands of Adventure has always been second place to Disney World: the undisputed king of manufactured fun in Orlando. While the addition of the Wizarding World of Harry Potter made a rapidly aging park relevant again, it also created a problem in the form of big crowds parading through an undersized area. Unlike Disney, Universal didn't seem to understand the art of crowd control and bottleneck prevention, so during peak times, the park's best attraction is damn near unbearable.
It's not just the popularity of Potter that's the problem, though, it's the weakness of the rest of the park. Save for some standouts like the Jurassic Park water ride — which is frequently avoided by folks not interested in soggy shorts — and the Hulk coaster, Harry Potter's the only place to be. Other parts of the park, like Toon Lagoon or Seuss Landing, are centered around IPs that simply haven't aged well.
See a need, fill a need. Creating another big attraction that feels grounded in this decade will help distribute crowds, but Universal might not have to worry so much about crowds when everyone opts for passes to Disney once the "Star Wars-themed lands" open. Ultimately, Kong will likely become but a grain of sand in a Jakku-sized desert: meaningless, just like this life we lead.