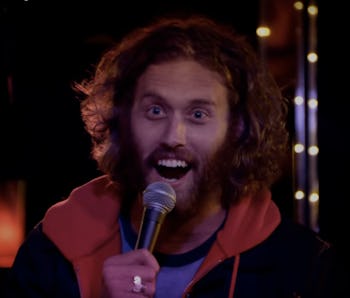 Entertainment
The Best Stories From 'This Is Not Happening,' Ranked
Comedy Central's long-form storytelling show returned this week.
This Is Not Happening, Comedy Central's funnier, darker version of The Moth, returned this week with all new, true stories from comedians and actors. The show is worth ignoring its host's uncomfortable history, because it gives performers a chance to relax and tell stories that feel a little less scripted than their standup material. The emphasis here is not on punchlines or social commentary, but on how a good story is constructed, and what types of narratives catch an audience's attention. Most stories are also themed around experiences that, in hindsight, were dangerous or irresponsible. This Is Not Happening features comedians telling, often, the worst thing that's ever happened to them. Here are our favorites.
10. "Fighting a Bear"
Bert Kreischer does mime being date-raped about halfway through this story, but the stakes in his on-set story about filming with a grizzly bear are higher than most stories on the show. Even if his particular gruffness is too much for some viewers, the guy knows how to describe his own panic.
9. "Punk Rock Hyenas"
Henry Rollins is a hyperbolic poet, and he plays to his strengths when describing his ascent as a punk icon. He was a great choice for This Is Not Happening because his storytelling sets and comedy acts always touch on feelings of vulnerability. He's not afraid to describe times in his life when he was legitimately uncool, and this story about his initial experiences with Black Flag demonstrates that.
8. "Joey Diaz's Mom Starts a Fight"
This is the kind of story you imagine you'd hear at a social club meeting, told between big Cuban guys as they chew on cigars. It's also memorable because Diaz speaks in a non-PC way about his experiences as a young immigrant. On paper, it seems unlikely that his childhood hero was Bruce Lee, but hearing him describe Lee makes the connection obvious.
7. "Sketch Comedy on Vicodin"
On one level, Bobby Lee is just telling the story of the time he shit his pants on television and was fired. On another level, it's an honest look at drug use in the comedy world, and Lee's brisk honesty about Mad TV and how the show handled his drug use and erratic behavior makes his story feel genuine. Though it's one of the shorter ones on our list, Lee's story is probably the most illuminating.
6. "Going to Atlantic City with Papa"
Barry Rothbart is one of the stronger performers featured on This Is Not Happening, and his likability makes up for some of his story's slow segments. His telling of the time he tried to order a hooker in Atlantic City with his best friend is so engrossing that it's the only video on this list that ends too soon.
5. "Meeting Jimmy Carter"
Ms. Pat's story is definitely the shortest one on the list, but the perfect setup has it ranked high for memorability. This is a story that would typically focus on the President's experience, but because Ms. Pat has grown as a performer, we're able to hear the unusual experience — a young girl working at McDonald's is rude to the president because she doesn't know who he is — from her point of view. It's also just wonderful to share in the knowledge that Jimmy Carter was once repeatedly called the n-word in a McDonald's.
4. "Kumail Nanjiani Tries Hard to Be Cool"
You know from the first few moments in Nanjiani's story that it's going to be a strong one. He gives "caveats" before beginning that each function as mini standup bits, and his impression of himself as a teenager — snarling, paranoid and obsessively studying his peers — is so hilarious, that I'd listen to him describe his life for hours.
3. "Picking Up a Crackhead"
This Is Not Happening was lucky to get Keegan-Michael Key, who tells a story that could easily have been turned into a Key & Peele sketch. There's a nice claustrophobic feeling to it, as it happens almost entirely inside his car, and like many of the storytellers on our list, he's willing to admit that he was once a dumb, naïve kid.
2. "Prison Riot"
Ali Siddiq is so good at his job that we ranked his prison riot story, in which almost nothing actually happens, higher than quite a few action-packed stories. He admits several important things off the bat, the first being that first-timers in prison have no idea what they're doing, and that they can learn how to protect themselves only by asking strangers silly questions. After watching this story back when it aired, I still think about the perfect way Siddiq repeats the phrase, "Mexicans got on boots."
1. "T.J. Miller Has a Seizure"
T.J. Miller told the best story, to date, on This Is Not Happening. It plays out in three acts, the stakes could literally not be higher (he's dying), and he strikes a perfect balance between inciting fear and telling jokes. His seizure story, in fact, should be the model on which future This Is Not Happening stories are based: retelling the worst possible outcome in life in a way that's impossibly, undeniably funny.