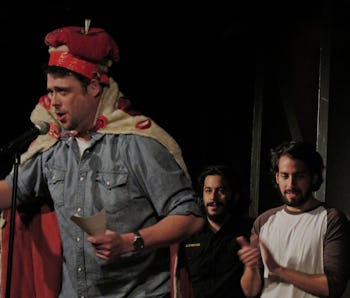 Entertainment
SXSW Releases Free Album From Deceased Comedian
Andy Ritchie's memory is honored by releasing 'King Ding-A-Ling' to the world.
Comedy took a tremendous loss in 2015 when Andy Ritchie passed away on Thanksgiving.
Early in the year, a GoFundMe campaign had been set up for Ritchie and his fiancée by some comedy cohorts. That account was the first real announcement to almost everyone in Ritchie's life that he was undergoing treatment to combat a brain tumor that was growing rapidly. It was a lightning rod for the comedy world, and even the show Tosh.0 got involved in a big way, leading to over $100k being raised for Ritchie.
Samantha Pitchel wrote a tremendous piece for Splitsider about what happened next. Needless to say, all the money in the world cannot save a life. As Pitchel writes:
"In the wake of Andy's death, friends' memories have painted him as a remarkable human who fortunately happened to be a great comedian. Henry Phillips wrote, beautifully: 'Sometimes I wonder if going into comedy was the right career choice, but when I think about the fact that because of it I got to meet genuine people like Andy, it makes me feel that it definitely was. His comedy was always unpredictable and delightfully entertaining. And despite his confidence on stage, as a person he was humble and kind, which is hard to find sometimes in this world.'"
Yesterday, SXSW Comedy released his album for free to the entire world — a tremendous testament to what standup stands for.
"Andy was an unforgettable performer whose work is well under-appreciated, and so SXSW Comedy wants to take this opportunity to share his memory by offering everyone a free download of his debut (and only) album, King Ding-A-Ling, courtesy of Stand Up! Records."
The album is available right here, so give it a listen: