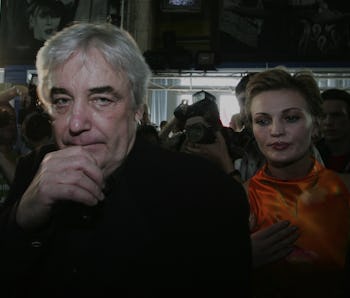 Culture
Remembering 'Possession' and 'Cosmos' Director Andrzej Zulawski, Dead at 75
The late Polish auteur's catalog remains one of the best and craziest filmographies few have seen.
Mikhail Klimentiev/Pressphotos/Getty Images
Andrzej Zulawski's controversial, graphic, political, sometimes hilarious, and always viscerally emotional body of work has been little seen in the United States. It wasn't until 2012, when a highly praised retrospective of the Polish director's work appeared at a few theaters across the country to showcase his 13 theatrically-released films, that his name became known in this country.
Some of this work — even internationally — was little seen, restricted to small arthouse runs, even when big stars were involved, due to the provocative content. Most of Zulawski's films were on the verge of being banned at one point or another, and many of his early works were, especially in his home country. He is best known for his 1981 English-language horror classic Possession, starring Isabelle Adjani and Sam Neill. The film won Adjani a Best Actress award after a screening at Cannes, and has since developed into a cult classic.
In 2002, the French government awarded Zulawski the Legion of Honor. Despite his Polish roots and, often, settings, Zulawski worked for much of his career in France, due to censorship from the Communist authorities back home. During his time there, he married and made four acclaimed French-language romantic dramas with internationally known French actress Sophie Marceau.
Zulawski died from cancer he had been battling for years this morning at the age of 75. We can only be thankful that he got a modicum of recognition at the end of his life. His film from last year, [Cosmos] — adapted from the absurdist novel by beloved Polish author Witold Gombrowicz — has not been circulated in the U.S., but won him the Best Director prize at the Locarno Festival last year.
Much of Zulawski's indescribable catalog — which still feels revolutionary decades after some of the films were produced, both in subject matter and form — is still available only on import DVDs. If nothing else good comes from this tragic loss, hopefully some newfound attention will be paid to the under-appreciated director's formidable body of work, and lead to worldwide retail release of refurbished prints of his films. They are simply too ambitious and unique not to be as readily available and widely celebrated as the productions of other celebrated iconoclasts like Alejandro Jodorowsky and Lars von Trier.