3 Cool Examples of Impractical Hacks from Amazon's "Internet of Things" Competition
Beer and pizza delivery at the literal push of a button, plus an ever-ready escape option.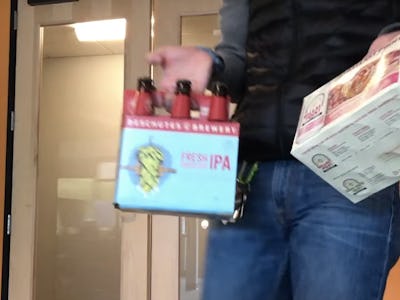 YouTube
Last week, Amazon announced the winners of its Internet of Things (IoT) competition, which asked applicants for the best IoT applications that they could dream up.
The competition began in October, when Amazon unveiled its own IoT platform. Entrants were expected to dream up applications that both captured the intrigue of would-be users and put the platform to its best use. Entries were divided into three categories based on the hardware they employed: the AWS IoT Button, the AWS IoT starter kits, and others (such as Arduino, Raspberry Pi, and so on).
Many of the winning projects are quite practical. There's a defibrillator that cries — for easy location purposes — when it's reported as needed. Several home security and/or lighting monitors and controllers. Houseplant and agricultural monitoring programs, some of which are able to water your plants for you. And we all know that the IoT will serve these purposes quite well.
But there are also winning projects that are decidedly less practical. Projects that are borderline stupid — in terms of their applications, not necessarily in terms of their programming — but that are accordingly beautiful. Projects that don't make your home smarter or more secure — but that instead just beautify laziness. Here are those projects.
This winner managed to hack an IoT Button to order Domino's delivery for when ordering online is just too much and you can't even. You literally press a button; a short time thereafter, like magic, there's a knock on your door and fresh 'za awaits. For now, you need a little bit of coding knowledge if you want to set it up for yourself, such that you can change your order and your personal information.
Here's Brody Benson, the hacker:
"I thought all of the technologically advanced frat bros and party-goers would appreciate being able to order their favorite meal from Domino's at the push of a button!"
This winning entry also comes from the ever-imaginative Benson — in fact, these two entries took the top two spots in the contest. He explains that while he ate his button-delivered pizza, he drank a beer, which pairing gave him the inspiration necessary for this next creation, a creation he succinctly sums up in emoji-speak: "😐💭🍺🔘🚗🏠😍"
Which is shorthand for: this hacked IoT Button, using Drizly, will deliver you beer at the press of a finger.
This winner put another IoT button to work, except this one does not deliver anything to you, it delivers you from things. Away from things. Awkward things. As quickly as possible. The conversation you were coerced into with that stranger-creep outside the office? A discussion-turned-serious with your boss at work? Escape Button delivers you from such evils: A press of the Button makes your cell phone ring. "Oh — sorry, really sorry — I have to take this call."
As for the actually practical winning projects? Oh — sorry, really sorry — I … I gotta take this.