Kendrick's Grammy and Other "New Songs" Are 'To Pimp a Butterfly' Outtakes
How Kendrick's lauded 'Colbert,' 'Fallon,' and Grammy performances extend the sonic universe of his album.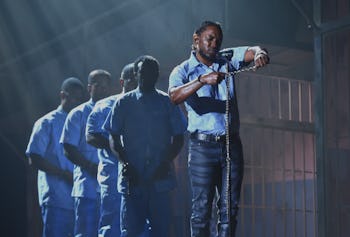 Larry Busacca/Getty Images for NARAS
Over the past two years, before, during, and after the To Pimp a Butterfly hype cycle, Kendrick Lamar has been performing politically charged, labyrinthine, jazz-adumbrated "songs" during live televised performances. He announced the direction he would take on his upcoming album with a much-lauded Colbert Report appearance in 2014, but to the surprise of fans, it did not crop up on To Pimp a Butterfly.
Since the Obama-beloved album came out, Lamar has made two notorious song debuts on primetime TV: a cathartic piece on The Tonight Show Starring Jimmy Fallon and a fiery, dancehall-and-sax-inflected one on the Grammys last night. The general line of commentary on these tracks is that they are material for future release, though they come off more like an added element of theater — an extension of ideas from To Pimp a Butterfly. Songs like the Fallon "Untitled 2" feel like fluid structures in which Kendrick could work through errant ideas, rather than sewed-up, formatted songs. These orchestrated monologues lend themselves particularly to bigger-than-life televised presentation, and offer opportunities for his crack team of jazz musicians to go off on their own spontaneous tangents.
In an interview with 2DopeBoyz, Lamar confirmed exactly what the Grammy song and much of this errant live material has been.
"You see all these performances on these late night shows. I got a chamber of material from the album that I was in love where sample clearances or something as simple as a deadline kept it off the album. But I think probably close to ten songs that I'm in love with that I'll still play and still perform that didn't make the cut."
These are old songs, then, but Kendrick seems to be only revisiting them, and readying them for performance, one at a time. Setlists from his "Kunta Groove Sessions" late last year do not indicate him trying out much in the way of fleshed-out new material. One wonders if Lamar will decide to release them on an additional style, but doing anything but releasing stunning, fleshed out albums-proper that are intended as such has never been his speed.
These ideas work best in medleys — as interstitial theatrical vignettes. Their lyrical bent feels narrative — working through a perspective fully in the mode of "The Blacker the Berry," but without the concise, classic Ice Cube-y structure. Hopefully, Kendrick will work these in on his upcoming European dates, and on future televised showstoppers.