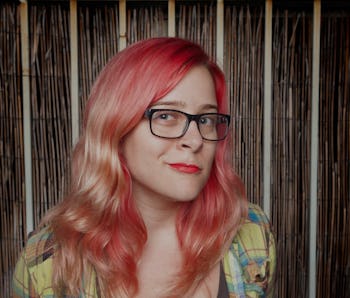 Entertainment
Brandie Posey Is a Punk-Rock Kick in the Dick on Behalf of Women in Comedy
On her debut album 'Opinion Cave' the world will finally meet the next big name in standup.
One of the most memorable sets I've ever performed as a comic started with my sitting in a bowling alley with an alleged crowd of seven people.
A girl with electric red hair had invited me onto her comedy show called The 4 & 20, where four comics each got 20 minutes to perform … in the bar portion of a bowling alley in Eagle Rock, California. Four of us were comedians, one was our host, and the other two were dudes with Morrissey shirts sitting at the bar, shouting their thoughts at our show. The stage was also covered in illustrations of an underwater landscape, drenched in sparkle-purple fliers. When the show ended, the punk chick with the bright red hair grabbed the same mic we'd been using and kicked off a three-hour karaoke night. When no one put their name in for a song, our alternative host sang the first four songs herself, belting them out with the enthusiasm of a teenager on poppers.
This was my introduction to the intoxicating positivity of comedian Brandie Posey.
Originally from Maryland, Posey is a comedian, actress, and writer. Using a gainfully silly approach, she tackles the complexity of American self-perception in her stand up, forcing it to face the kitschy, perverse, and occasionally appalling fruit of its pop-cultural labor. Whether she is rhapsodizing on why being 20 percent white trash is the perfect amount to be, guessing at what Jenny McCarthy's real anti-vax intentions are, or reading love letters from a donut, Brandie's fierce style is trumped only by her fierce wit.
At the end of 2015, she recorded her debut album Opinion Cave, out now. I sat down with Brandie to talk about her journey in comedy and how she's building better representation for women in an industry that has served that gender particularly poorly. Also, some stuff about boobs, boys, and Jim Carrey.
Let's start with the easy, lighthearted questions: So, your mom died.
Yes, she did. I'm releasing the album on the two year anniversary of her death. It had better go number one. Or I won't believe in God. Just kidding. I already didn't believe in God because he took her from me. Just kidding. Or am I? What gets this album to platinum? Let's turn some of that pain into cold hard cash.
What did your mom's death mean to you in relation to your comedy?
She died of multiple system atrophy. It's in the Lou Gehrig's camp of neurological disorders, but there's no celebrity attached so there's no walks or ribbons bringing it attention. Much like my comedy, my mom died of an underground disease.
I've always been a workaholic and work makes me feel alive, so I flew back home from the funeral and then had the best comedy sets of my life because I gave no fucks anymore. Oh, you aren't going to laugh at me? I don't care. I just saw my mom's corpse. It opened up some things I'd never tapped into before.
I needed to do something big, so I threw myself on the road for six weeks. I disappeared to yell at strangers and maybe cry across state lines; this is a good plan. I needed to have control of something. L.A. doesn't like me, but the rest of the world does. In Wyoming, on the earliest part of the tour, I was 1,000 miles away from anyone who gave a shit about me, so you find it within yourself. I fine-tuned my material and myself as a person.
There's also a shelf life on that emotional honesty, so I knew I had to record this material immediately. You can't tell a super-painful joke that far after the place you were in when you wrote it. It would be dishonest to treat my dead mother the way I treat "airline food" as a subject matter. That got me to set a date for the album.
What got you into comedy?
I remember being in the theater for Ace Ventura 2: Nature Calls. He comes out of a rhino's ass and I laughed so hard I cried. I wanted to do that to someone else. I didn't know what it meant, and surely this sounds like a joke, but it isn't. Jim Carrey was a huge influence because I was an introverted person with a big imagination and he showed how you could just let that stuff live in the outside world. Even quoting a Jim Carrey movie requires you to be a bit of an asshole.
Other than Margaret Cho and Kathy Griffin, there weren't many female comics on TV, so I never thought that was me. Then I saw Molly Shannon on SNL, so that cast became a big influence. I basically went to film school to make sketches, and here's the thing: No one at film school wants to make sketches. They don't like comedy. Oops. My bad.
Then I moved to L.A. and started improv and started going to shows every night. I'd see Jimmy Pardo or Paul F. Tompkins. It took a long time to realize I could be in that field, but I never saw any female comics, so I literally didn't think there was a place for me. I took a stand-up class and my teacher derisively said "I think you're one of those … alt comics." I didn't know what that meant and she said that, with this weird negativity. Then she said "You know … like a Janeane Garofalo." Which she seemed mad about. So I quit and started going to open mics.
What's been the most unexpected thing to come into your life through standup?
My boyfriend. I met him at an open mic in Chicago. I'm pretty cool, so I never thought I'd die alone or whatever, but I never dated. And then I met this great guy and we courted for like three years before he moved to L.A. to be with me.
Everybody in comedy knows what it's like to embrace public failure. That's all comedy is. People outside of comedy have rarely come to understand that. It's a change in you as a person. It makes you fearless. I get to do the thing I love the most in the world every night of the week. That's complete control. You get to see so many brains on display. I'm surrounded by people who are difficult and passionate, and that makes you better all the time.
You've directly taken on the negative stereotypes of female representation in comedy on your podcast Lady to Lady.
It started as a live show in a black box theater, and now it's at Upright Citizens Brigade. It's a fucked-up talkshow that's The View as done by David Lynch by way of Pee-wee's Playhouse. We have only lady guests, except for French Stewart. That was because Barbara Gray had a childhood crush on him and we got to talk to him about that.
We never talk about feminism directly. We're just funny. So when people say "Women aren't funny," we can just link them to our show, with over 170 episodes and 170 different female guests, where we are always funny and we never repeat topics. We sneakily encourage female comics in that way, because we were all raised to be competitive and that sucks. It's rare that there's more than one woman on a comedy lineup, so we don't even get a chance to see each other at work. We use this time to focus on what happens between us, and focus on building that into something stronger.
As a group you've released an album of Christmas songs, but also released a commentary track for Magic Mike XXL; a movie none of you were involved in.
Our favorite movie of 2015 was Magic Mike XXL because it's so funny but it's also about the same thing as our show is: just being weird with your friends. We went to the screening at the Americana on Barbara Gray's birthday and they danced to Céline Dion in the fountain afterwards, which got them banned from that mall. We wanted to do a cool fundraiser at the end of the year for Planned Parenthood, so we recorded the commentary track and said if you donated more than $10 to Planned Parenthood and sent us a receipt, the track was yours. We wound up raising over $6,000 over one week. So that felt righteous.
You starred in your first indie movie, The Worst Year of My Life. This was during the worst year of your life.
I'm a bit of comedic relief. Jonathan London directed it. I play like a bitch vegan girl and I'm a meddlesome person. Also, it's the only filmed appearance of my old boobs, just before my breast reduction surgery. It's funny to watch now and say "Hey, look at that. That's what I used to look like. That's bizarre."
Brandie Posey on Ready! SET Art!!!, on which comedians react to a piece of art but the art is never seen by the audience.
Tell me about your long-running show Picture This, which is probably overdue to be adapted for television.
It's a show I co-created and co-produced with Sam Varela. I take it to festivals all over the country. Comedians get paired with animators and they live-animate your jokes during your set. You're dealing with the most talented heckler in the world. You have to get super riffy in your own joke. Seeing your joke filtered through a different brain, it kicks you in the ego. "Yeah, draw that shark! Oh, no, that's a way funnier joke than mine!" These animators all work on China, IL or Metalocalypse or Bojack Horseman. Watching them interpret these things visually but from the same starting point is insane. I used to be very scripted in my comedy, and this beat it out of me. You'll never be as dynamic as the giant cock and balls behind you on stage, so you have to change.
Your album's title is Opinion Cave. What is that?
I have a joke on my album. I'm being harassed by some idiots and I get a little mean and then guys think I'm a mean person, so I have to apologize. "I'm sorry that my fuckhole is being an opinion cave and that I wanted to be treated with respect like a human person!" It's a good way to say I'm going to share some opinions with you in this show, so get the fuck over it. I almost named it Titular Line because I had a hard time picking.
That would've tied into the boobs stuff.
So that's why I almost named the album Jokes From My Fuckhole but … oops, that was too dark. I'd be attracting the wrong demo. I don't need to invite that many trolls.
I'm know you're always asked what the hardest part about being a woman in comedy is, so let's do something different: What's the best thing about being a woman in comedy right now?
The sisterhood with other female comics is amazing. I drive for Lyft so I get to hear the back end of conversations between friends or couples, and so much of the time it is women complaining about other women. And that sucks, because you're missing out on so much. There's a lot of competition that we came up in that we're now getting over. I'm friends with Jackie Kashian and Laurie Kilmartin. Maria Bamford knows me by name, and that's insane to me. These ladies are rock stars. And they make me happy. Seeing a woman in the audience light up when her point of view is being reflected in your jokes is amazing. Dudes have to come along on the ride with my material, the same way women had to come along on dude comics' jokes the entire rest of the show. Having a woman come up and say "thank you for letting me know I'm not the only one who thinks this" is just incredibly fulfilling.
Here is the world premiere of the final track from Opinion Cave featuring a live remix from one of the bits on the album about Brandie's breast reduction surgery and a heckler who was disappointed in her choices about her own body. The backing band features rock-comedy all-stars Karen Kilgariff and Drennon Davis.
You can follow Brandie Posey on Twitter and you can order the album on iTunes.