Young People Drive Major Increase in Share of Americans Dating Online
We're not saying it's all because of swipe dating, but it is.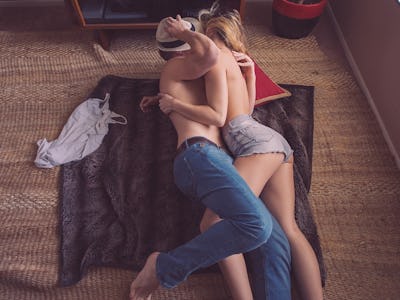 stocpic; Pixabay
Young people are by far the most common users of digital dating sites and apps, and their numbers are growing rapidly, with 27 percent reporting having tried to find a mate online. Back in 2013, only ten percent of people ages 18 to 24 had sought dates online, according to a recent national survey from Pew.
The number of young mobile daters has more than quadruped from 5 percent to today's 22 percent in the past two years.
Hopefully everyone keeps their filters on, because the report also indicates an unsettling likelihood that the youth might be using the same apps as their uncles and aunts. While only six percent of people age 45 to 55 were using online dating sites in 2013, that figure has now doubled to twelve percent. Nationally, the number of people using mobile apps has tripled.
All together, 15 percent of Americans have used online dating sites to try to find dates, relationships, or flings. In 2013, 11 percent had reported doing so, meaning 13 million people tried online dating for the first time in the past two years.
As for what's driving the rush online, particularly in youth mobile dating, there are certainly some obvious suspects:
"Historically, people in their late teens and early 20s have not used online dating at particularly high rates… young people don't particularly need to use online dating in the first place, since they have lots of available options for people to date within their social circles," Aaron Smith, associate director of research at Pew Research Center, told Mashable.
"The rapid growth we've seen in dating apps use speaks both to the changing nature of dating among younger folks today, and also the extent to which these apps are in many ways perfectly in line with the way that cohort interacts with the world," Smith added.
The youth, to use their parlance, just don't give a f*. They may be on a college campus with literally thousands of eligible dates just outside their doors, but the online dating world still beckons many of them. Apps like Tinder and Bumble that are location-based and use swiping to indicate interest, turning the whole process into something of a game, are certainly behind part of the rise.
The increasing numbers of people using dating apps also coincides with an improving view of how well they work. Eighty percent of people who have used the sites agree that "Online dating is a good way to meet people," while 55 percent of those who haven't think the same.
The Pew report also points to what may the greatest obstacle facing even further adoption of online dating: safety. Even among those who use the services, 45 percent think that online dating is more dangerous than conventional methods, while 60 percent of online dating virgins share the same concern.
So now that we know the online world will serve as the matchmakers of the future, will the shy technophobes all have to settle for each other? At least it will be easy to find them: They'll be the only people still hanging in bars. What dorks.