A Virus Is Coming to the CW With 'Containment.' Will It Be Any Good?
A serious drama about a mysterious outbreak from 'The Vampire Diaries'' showrunner could help the CW become even more of a geek destination.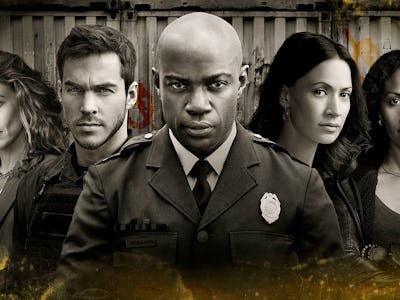 The CW is continuing its assault on genre television by finally announcing a premiere date for its latest speculative fiction show: Containment. The new pandemic show will debut on on April 19 following The Flash, taking the place of iZombie when the show with the best intro on TV finishes its so-far-excellent second season.
But what's worth getting excited about with Containment? Well, it's not the fact that it's being called a "limited series event" — it's just a show with a 13-episode season, which could be renewed, like any other show. (I guess "limited series event" makes it sound more interesting?) No, what makes it potentially interesting is that it's a tense outbreak drama taps into apocalyptic illness fears, and that it's from Julie Plec, The Vampire Diaries' showrunner.
The CW has done a hell of a lot to become the go-to network for geek-oriented storytelling. It's got two of the most-acclaimed superhero shows on TV in Arrow and The Flash. It's got one of the top vampire shows on TV in The Vampire Diaries, a sly Veronica Mars descendent in iZombie, a teen-oriented Game of Thrones-like show in Reign, and the Battlestar Galactica wannabe The 100. But will it manage to make Containment work, and capture any of the magic that, say, The Walking Dead did (or even Under the Dome, for the six weeks that was an event)? iZombie, for all of its charms, functions more as a vampire show where the characters eat brains instead of drinking blood. But a full-on, apocalyptic disaster series? That could be something.
The presence of Julie Plec is also interesting, it not a guaranteed positive. Plec has overseen The Vampire Diaries as it, first, became a supernatural soap opera that managed to be considered one of the best shows on TV, and second, helped the sort of fast-paced show that usually burns itself out age into moderate respectability and a decent spinoff. On the other hand, she's taken a lot of the blame for the show's decline into shipping wars. Both of these are potentially valid, so it will be fascinating to see whether Plec's plotting instincts will take the lead once she's in charge of a show that isn't build on teen drama expectations.
Whether or not the show is an end-of-the-world disaster, or an apocalyptic good time, we'll be paying attention come April.