The Girls Ignore a Dead Guy in the 'Broad City' Trailer
Abbi and Ilana look too preoccupied with jokes about vibrators to notice New York's chaos,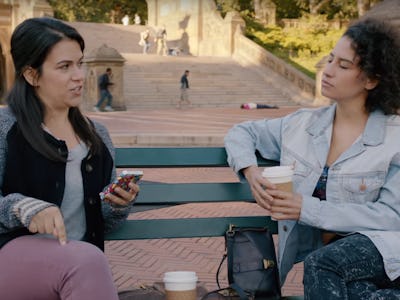 Comedy Central's loudest duo returns next week, and it looks like Ilana and Abbi are coming in hot with pussy jokes, antidepressants, and novelty snapbacks. The Broad City trailer dropped online today, and every shot looks breathtakingly warm, shot deep in the New York summer that we're all craving.
It appears Ilana and Lincoln will continue to hash out the nature of their relationship — Ilana tries to get Lincoln hype on being polyamorous and his only response is "I'm not bi!" — and Abbi will still be working at that cheesy gym. In the first shot of the trailer, Abbi and Ilana discuss the merits of a gynecologist who could also wax off one's pubic hair, while a man appears to have died in the background after falling down a flight of stairs.
The season also looks stuffed to the brim with odd choices for celebrity guests, including Cynthia Nixon, Tony Danza, and Blake Griffin. The girls also take a variety of trains, bicycles, and cabs to unknown destinations, and are filmed running through an airport terminal, so we'll probably see them leave New York at some point. Sounds good!