With Johnny Depp's 'Invisible Man,' Universal is Hellbent on Destroying Itself
Universal taps Depp to star in 'The Invisible Man' reboot, building a new franchise that no one wants to see.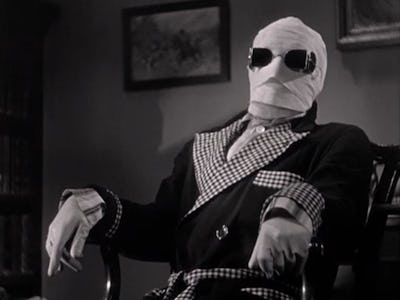 gablescinema.com
Because it's so much easier to make that money when you're not hamstrung by creativity or the need to take artistic risks, Universal announced today that silly makeup aficionado Johnny Depp will be starring in a remake of 1933's classic monster movie The Invisible Man. The casting decision is a move by the creatively bankrupt studio (coming soon: The Purge 3, Bourne 5, and Furious 8!) to be third in line to establish its own movie universe of beloved classic characters. OK, technically, they're fourth, but if they succeed they'll step over Sony's steaming carcass of a Spider-Man Universe to become the third successful studio to get the job done.
Universal Pictures has already begun to realize its dream of mimicking other, more creative people by hiring Tom Cruise to star in early-2017's The Mummy. With the acquisition of Depp (whom I honestly thought was owned outright by Disney), the studio is taking another step towards a Universe in which, as chairperson of Universal Pictures Donna Langley told Variety last November, "The characters will interact with each other across movies. We're incubating it at the moment, and we're taking the time to get it right." (If that last bit is true, at least it'll put them one step up on Warner Bros.)
And yet, why? Why the need to revive creations that are nearly a century old purely because "they're a proven commodity" and the dude who co-wrote Star Trek needed something to do? Isn't it time to take a stand against these kinds of inane and pandering films? If only I weren't planning to watch each and every one of these films, this argument would hold much more water.
At any rate, Universal Pictures joins Paramount and Sony as they try to ruin the legacy of Transformers and Ghostbusters, respectively, by creating their own interconnected film universes. Because it's not enough to simply rip off old films anymore, now you have to cram them all together into the same lame idea.