Amazon Will Soon Make Video Games for Your PlayStation, Xbox, and Oculus
Underreported in today's Lumberyard announcement: the fact that Amazon will make games, too.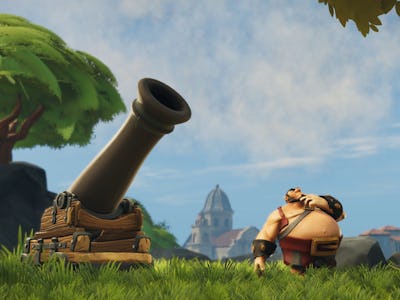 Amazon Lumberyard
Nestled in today's Amazon announcement that it would release Lumberyard, a free game engine and development environment, was the news that it would soon be releasing its own video games, built with Lumberyard tools by high-profile video game companies.
It was widely reported this morning that developers will be able to create games for Windows, Xbox One, and PS4 with Lumberyard. And within "a couple months," it will also support mobile and virtual reality game production. The game engine integrates the game-hosting service GameLift — which is how Amazon can get away with giving out Lumberyard for free — as well as Twitch, the live-streaming service for gamers who want to broadcast their exploits.
That all might be irrelevant to you, casual gamer. (Unless it's not, in which case feel free to dig around in here).
Amazon already makes iOS and Amazon Fire games, but, with Lumberyard, it will start in on games for PC, Xbox One, PS4, and virtual reality headsets.
There are some strong allusions in the first GameDev Blog post, written by Eric Schenk, General Manager for Amazon Lumberyard, that this is just the beginning for Amazon.
We are just getting started. We have more to come, and I for one am incredibly excited to see where this road takes us, as we strive to create the tools and technology that make it possible for customers (game developers, players, broadcasters, viewers, and more) to bring previously impossible experiences to life.
That's all I have today. I'll be back, and so will many others from our team who will have exciting things to share with you in the coming weeks, months, and years.
And we're actually tipped off in the FAQ for Lumberyard:
Q. Is Amazon Game Studios using Lumberyard to build games?
Yes. We can't wait to show you what we're working on, but we'll have to ask you to stay tuned for now.
But the definitive indicators are, unsurprisingly, Amazon's job postings.
Amazon is trying to hire 73 people to add to its already impressive game studios team, including a "Combat Design Lead," a "Sr. Manager of Business Development, Game Services," and a "Sr. Product Manager, Amazon Lumberyard."
Amazon is all in on games.
At Amazon Game Studios (AGS), we see gaming becoming the largest entertainment form on Earth…
We are seeking the industry's best to help us create, publish and support multiple AAA PC games being developed. Join us, and you'll have the power of Twitch, AWS, and the entire Amazon ecosystem to shape the future of games. You will work alongside talented industry veterans, including key contributors from dozens of titles: League of Legends, Half Life 2, Left for Dead, Portal, Thief, System Shock 2, Age of Empires, Dawn Of War II, Halo, The Last of Us, Gears of War, The Sims, and Bioshock.
Those are some extraordinarily well-respected games. If we keep in mind how Amazon's foray into television is going, it's reasonable to be excited about what gaming experiences are in store.