10 Times Bizarre Musical Choices on 'The Walking Dead' Paid Off
No, there's no Bear McCreary on this list.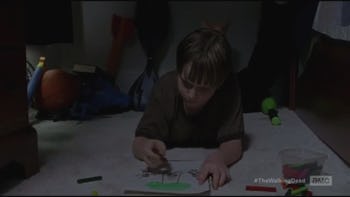 Most of the music in The Walking Dead is either diegetic, or orchestrated by the series's composer Bear McCreary. Some non-diegetic songs are used, typically in the last few moments of an episode, but many of these contemporary elevator-folk songs sound too much alike to differentiate them, as if Blitzen Trapper took some downers with Delta Spirit before trading stories about imagined childhoods in Tennessee.
We've ignored the breathy folk tunes on both available Walking Dead soundtracks in order to focus on the most poignant and unexpected musical choices the show has made over five-and-a-half seasons. We're hoping to see more daring soundtrack choices like this when Season 6 picks up again on Valentine's Day.
10. Nine Inch Nails: "Somewhat Damaged"
The Nine Inch Nails song begins as diegetic in the penultimate episode of Season 5, when Deanna and her husband listen to their dead son's exercise mix CD. The song, however, continues as Carol makes a casserole and cleans her new kitchen counter, and we see a walker shambling down a dark street while Trent Reznor sings "make the choice to go away." The song makes Deanna's husband cry. It's a whole thing.
9. Wang Chung: "Space Junk"
Remember way, way back when Rick was still wearing his uniform, and Glenn felt comfortable calling him a "dumbass"? The Walking Dead played a Wang Chung song as Rick realized he wasn't the only living human on Earth, and then we got to see zombies tearing apart someone's guts while the music played on. The effect was marvelous. It's been a long time since the show was this fun.
8. Jamie N Commons: "Lead Me Home"
Admittedly, this song is performed by a young hipster dude trying to sound like a grizzled old folk singer, but it worked so well on the show. In Episode 12 of Season 3, Rick, Carl, and Michonne passed a hitchhiker wearing a backpack and refused to stop for him. At the end of the episode, "Lead Me Home" played while the trio stopped the car, picked up the probably-dead hitchhiker's backpack off the road, and drove on. It was a brutal moment, and we understood the gang was no longer accepting applications.
7. Sharon Van Etten: "Serpents (Demo)"
The Walking Dead doesn't often feature objectively beautiful, lyrical songs, but when Rick gave Carol the boot, Sharon Van Etten's demo version of "Serpents" illustrated the group's melancholy. The end of Episode 4, in Season 4, could have ended with a sentimental, silent driving shot, but Van Etten's voice made it feel like something more.
6. Nick Lucas: "Tip Toe Through the Tulips"
Well, it wasn't quite the Tiny Tim version — The Walking Dead wasn't about to outdo SpongeBob SquarePants for the best use of that song — but Nick Lucas' song is effectively creepy. It's hard to imagine this song being considered anything but disturbing, but Lucas was a beloved jazz vocalist back in the 1920s, and performed this song with obvious joy.
The Walking Dead used Lucas' warbling as diegetic music in the final episode of Season 6's first half when creepazoid kid Sam played it on his child-sized record player — a tripped out toy for a kid to mysteriously have post-apocalypse — to provide a nice backdrop for his violent coloring project. The song immediately signaled that Sam was going to be a problem by the time the episode was over.
5. This Will Destroy You: "The Mighty Rio Grande"
When the show featured this song in Season 5, it launched a billion badly made fan videos on Youtube. It's a gorgeous track that builds to a crescendo in the first minute before tapering out into some sparse guitar, and it makes you feel like a college freshman hearing Sigur Rós for the first time. The show needed a large, twinkling expanse of a song.
4. Blind Willie Johnson: "Nobody's Fault But Mine"
The Walking Dead loves its backcountry aesthetic, but it's a miracle when the show features an actual blues singer who wasn't born in 2002. This gritty track played in Season 5, when Beth had a tough conversation with Steve in the hospital.
3. A.C. Newman: "Be Not So Fearful"
It is rough to watch high points from prior seasons, like the scene in Season 4 when the gang discovered Terminus. It was a rare chance for the show to feature a song that wasn't about guilt or fear, and the moment, complete with potted sunflowers, felt wonderful.
2. Jo Stafford: "Long Ago (And Far Away)"
The show featured two songs sung by Jo Stafford halfway through Season 3, but "Long Ago" is the superior tune. Nothing compares to hearing Stafford's lovely voice crooning "chills run up and down my spine" as Mr. Coleman turns painfully into a walker. We'll miss the Governor's affection for classic romantic music when the show returns.
1. Bee Gees: "Spicks and Specks"
Good God, this was a masterful move. Who knew a Bee Gees song would be the perfect encapsulation of quivering fear and hope? When the show played out one of the final episodes in Season 5 with "Spicks and Specks" over a shot of Rick listening for walkers, it reached, for a moment, the emotional resonance for which it's always striving. "The sun in my life," the Bee Gees sang as Rick's paranoia grew, "it is dead, it is dead." The show will have to pull another surprise hit out of its sleeve in order to beat that moment.