Watch the Best Super Bowl Movie Ads Featuring 'Batman vs. Superman' and More
All the Super Bowl ads, rounded up: '10 Cloverfield Lane', 'Batman vs. Superman', 'Captain America: Civil War,' and all the other ones you forgot about.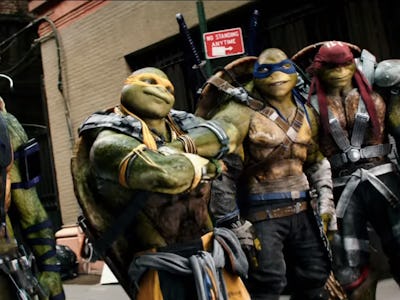 YouTube
Were you as bored by the Super Bowl as everybody else? Well, save for the Denver fans who were happy that their team's defense managed to win a game for them? Anyway, if you weren't in it for the football shenanigans then you were surely there to either watch Beyonce totally kill it during the halftime show or for the bevy of $5 million advertisements spliced in between Cam Newton getting sacked a bunch of times by Von Miller.
Among those coveted yet outrageously priced segments of Super Bowl airtime were the trailers for some of the most anticipated films of the year. Unfortunately we didn't get any new trailers for movies like Paul Feig's Kristen Wiig headlined Ghostbusters reboot or the first standalone Star Wars movie set for release in December. It's a shame, we'll just have to wait a little longer. But we did still get a look at a few other movies that will be vying for your box office dollars in 2016. Here's what you should have seen.
10 Cloverfield Lane
The Cloverfield sequel just keeps piling on the mysteries, and was probably the best teaser of the bunch.
Batman v Superman: Dawn of Justice
Clark Kent and Bruce Wayne fly Turkish Airlines for some reason? Well, okay. That isn't even the most random thing we've seen so far from this movie's rollout phase.
Captain America: Civil War
The Winter Soldier trying to shoot Iron Man in the face? War Machine left for dead? Marvel's headlining heroes face off against one another? Yep, we're excited.
Deadpool
Deadpool makes corny jokes for his corny movie.
Gods of Egypt
White dudes fighting gigantic CGI snakes in a fake ancient Egypt — this will be this year's biggest box office bomb.
Independence Day: Resurgence
We're going to live on, we're going to survive, we're going to make a bigger, even more ridiculous alien invasion movie for the sequel. Thank god for Jeff Goldblum.
Jason Bourne
Production meeting for the new Bourne movie: "Okay guys, we kinda messed up with the whole Jeremy Renner Bourne Legacy thing. How do we fix that in the title for the new one with Matt Damon again?" "Call it Jason Bourne." "Genius!"
The Jungle Book
The last time Bill Murray voiced a CG animal it didn't pan out too well, despite the sequel.
The Secret Life of Pets
And here's your kid's movie Super Bowl fix.
Teenage Mutant Ninja Turtles: Out of the Shadows
Make it stop, please make it stop. Maybe Bebop, Rocksteady, and Krang could be cool, but don't count on it.
X-Men: Apocalypse
The end of the world looks pretty cool. How many mutants are in this thing though?