'OK K.O.!' Proves That Cartoon Network Is Doubling Down on Games
The animation network just released its first mobile game without an accompanying show. Will it be a hit?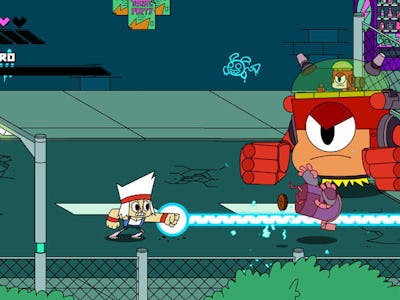 Rob Sorcher, Cartoon Network's chief creative officer, told Wired recently that the network plans to expand beyond animated television series. In a slightly perplexing statement, he said, "We're no longer just about creating TV series, we're really about creating animated worlds. And so we want the ability to unfold those [worlds] onto any platform — and ultimately all platforms." This assumedly mean the network is trying to figure out a way to reach kids who spend more time on Snapchat and playing iOS games than they do sitting down in front of the TV to catch the new Regular Show.
The paradigm shift announcement accompanied Cartoon Network's first mobile game release that wasn't meant to promote one of its cartoons. OK K.O.! Lakewood Plaza Turbo, developed by Ian Jones-Quartey, comes with a call for hackers and developers. At the Cartoon Network game jam in Portland, Oregon this February, the network will invite 200 independent programmers to improve and alter the game as they see fit. This mean Cartoon Network is expanding beyond children's animated programming to fight for relevancy among coders, culture nuts, and those who generate and ingest digital content.
Christina Miller, the president and general manager of Cartoon Network and Adult Swim, told Fast Company, "Open-source behavior really speaks to our overarching strategy in driving creative expression and innovation for our brand in different ways and really looking at content in a unique way, not a standard, linear way." That's content marketing speak for "we don't want to be limited to half-hour cartoons about living gumball machines anymore, and we want some of that tech-geek money."
We don't mean to be dismissive of Cartoon Network's big moves, either. The network has long produced animated programming that appealed to both adults and kids, and its partnership with Adult Swim makes it the most relevant contemporary source of animation in the game. While Nickelodeon has nothing to turn to aside from the art it produced back in the '90s, Cartoon Network has transformed itself into a mecca for smart, funny animators who want their art appreciated and improved with extra content, like mobile games and comics.