Researchers Discovered a Tarantula and Named It After Johnny Cash
Bit a man in Reno, just to watch him cry.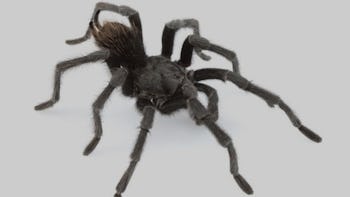 Chris A. Hamilton
Country music legend Johnny Cash has a new tarantula namesake. Researchers have dubbed a previously unknown species of tarantula Aphonopelma johnnycashi. Wouldn't you know, it has a penchant to wear black.
The new tarantula was discovered along with 14 other species living in the American Southwest as part of a year-long study published Thursday in the journal ZooKeys. The new species didn't show any unique response to outlaw country or have a drug problem or anything. But it does live near Folsom Prison, California, where Cash pulled off one of the most famous live performances of the 20th century playing to inmates, so it's not like the scientists needed a roadmap here.
Cash's 1968 prison album was important because it gave a measure of humanity to inmates from one of the biggest stars of the day, and because the band slays, and if you don't know it someone should drop a copy in your lap like, yesterday. Rolling Stone called it the most vital country album ever, and noted what Cash told the L.A. Times in the day: "I could see the men looking over at me. There was something in their eyes that made me realize everything was going to be okay. I felt I had something they needed." What we have in the Aphonopelma johnnycashi is a creature staying close to the ground, easy to carelessly step on, eating a lot of humble (insect) meals, looking badass as all hell. Safe to say Cash would approve.