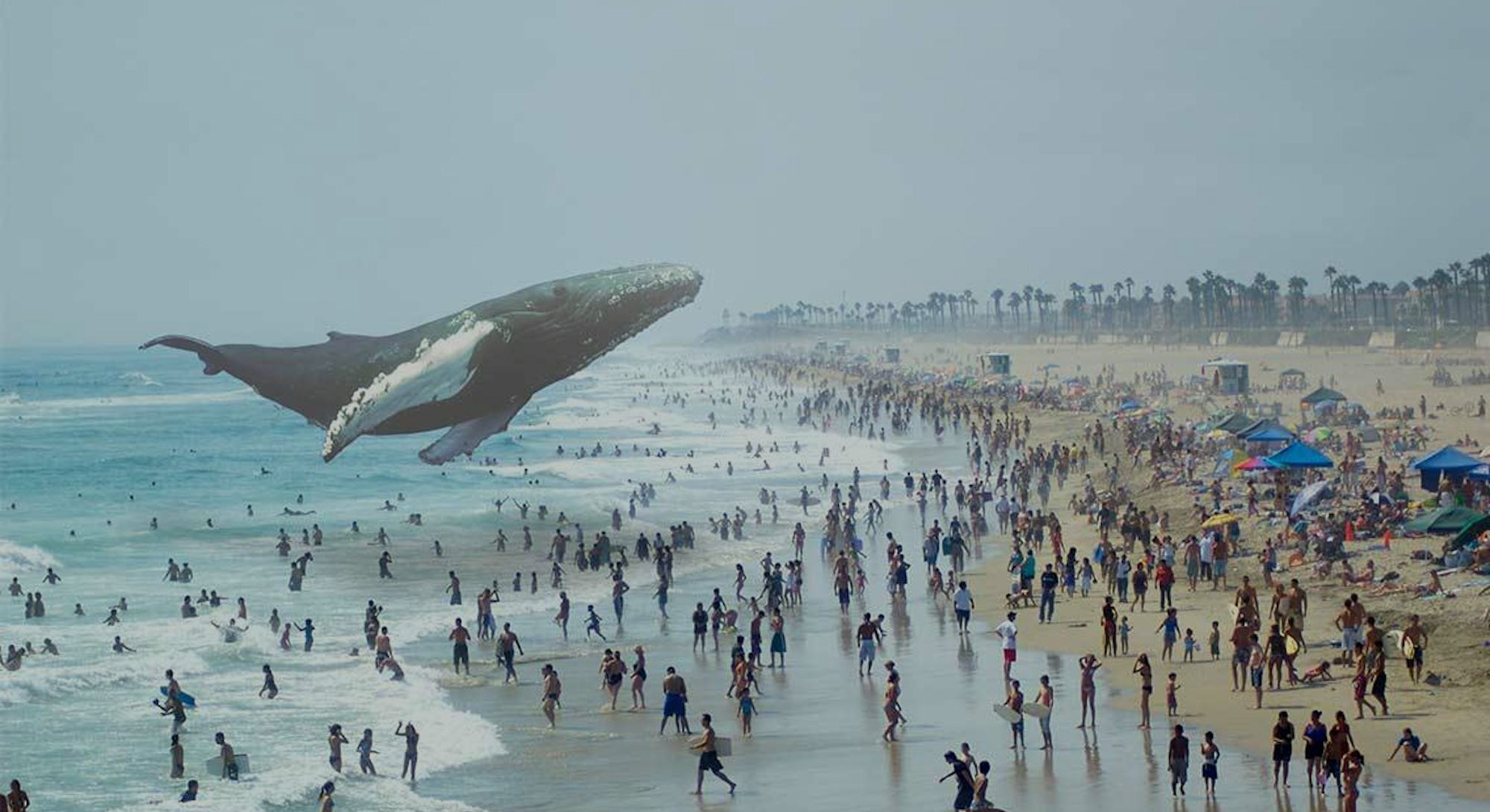 Culture
The 9 Craziest Job Openings at Magic Leap
'We are creating a new world.'
Magic Leap
On Tuesday, Magic Leap, one of the leading VR enterprises, announced that it had received about $800 million in funding. The purpose of this funding was, no doubt, to ensure the smooth and painless delivery of its unbelievable augmented reality headsets onto our extended and overeager visages. Soon. We hope.
That's a lot of dough. What's Magic Leap going to do with all that money? Well, it would seem that it's going to hire people. Then hire some more.
It wants a team of acolytes to add to its already (self-described) "eclectic group of visionaries, rocket scientists, wizards, and gurus from the fields of film, robotics, visualization, software, computing, and user experience" that will take Magic Leap beyond its current projected destination into a destination which is already futuristic as all get out.
Magic Leap is working on what it calls "Cinematic Reality," which is, in short, "a beautifully realistic 3D environment visible in the real world."
Right now, there are almost 150 job listings under 14 discrete categories on the "Wizards Wanted" section of its site. The jobs are in one of five locations: Austin, Texas; Dania Beach, Florida; Mountain View, California; Santa Monica, California; and New Zealand. On the application page, Magic Leap asks you for your salary expectation. (If I had $800M to throw around, I might ask, too.)
Inverse picked out nine of Magic Leap's crazier job offerings and excerpted the best bits from the descriptions. These postings give insight into what it takes and what it would be like to work for Magic Leap — but also a window into what Magic Leap will be up to in the coming months.
Coding Conundrums
Who knows what the heck "finding glints" and "unveiling intrinsic images" means, but I'm all for deep learning:
Sr. Software Engineer (Deep Learning)
You will never be bored here.
We're doing a lot with learning and more and more in Deep Learning. […] You'll use and refine Deep Learning techniques and apply it to our technology.
It's no surprise that vision really wants to live right in front of your eyes. We're collecting boat loads of data. Your job is to learn from that data. For example, we want to go deep into finding objects, determining human and animal pose, recognizing scenes, identifying and tracking rigid and articulated motions, understanding behaviors, identifying users, finding glints, and unveiling intrinsic images and direction of lighting.
PhD in Computer Science or Electrical Engineering is preferred and 4+ years of experience
Publication in Deep Learning is preferred
If you manage to get this next job, prepare yourself for a creative heyday. Games in Magic Leap already look insane — see the YouTube video below — but if you're the one in charge of dreaming up "supremely entertaining" games, you're in for some fun:
Magic Leap is seeking a Lead Game Engineer to lead a Cinematic Reality game project. The primary responsibility is to manage a team of engineers to deliver a high quality and supremely entertaining Cinematic Reality game on schedule and within budget.
Empower design and art teams to create maximum fun
Avid gamer, passionate, and a team player
This next posting seems to imply that Magic Leap headsets will know their environments. I'm imagining Google on your face: you lazily gesture in the direction of a foreign cooking contraption in your brother's apartment, and Magic Leap summons up and presents you with a description of the product and its function. Behold:
Collect and synthesize labeled and ground truth data and put that data within a larger machine learning + crowdsourcing framework. Collected and synthesized data will then be used by internal and external software groups. You'll manage our crowdsourced labeling and segmentation methods. You'll devise the data structures so that we can continually refine the labels and segmentations ("on all tables, segment all soda cans" for example). You'll make it easy for others to use crowdsourced labeling, machine learning labeling and the eventual seamless mix of the two. You'll help enable us to collect a huge amount of data, your job is also to allow us to make use of it.
Expert in 2 of the following:
working with large data
crowdsourcing
machine learning in the cloud
Crafting Immersive Experiences
Magic Leap seems extra focused on creating not just a convincing visual experience, but also a convincing auditory experience. Which, if you consider IMAX, seems vital. So they're hiring loads of audio experts.
O, would that I could be an audio generalist:
Audio Generalist [read: Jack of all Audio Trades]
A Magic Leap Audio Generalist is a well-rounded professional capable of doing everything necessary to sonify an interactive experience. From working with producers and collaborators to conceptualizing the audio direction; recording and directing dialogue; conceiving and creating music; creating and gathering sound effects; and integrating it all into a realistic, effective and compelling interactive audio environment. The ideal candidate embraces the technical challenges that arise at the cutting edge of a new frontier in computing.
Conduct field recordings to gather source material
Edit Sound Effects
Maintain Magic Leap's sound library
Design overall soundscape for
Interactive media (games and other experiences)
Linear (short films, storyboards, animatics, etc.)
But perhaps phenomenological philosophizing is more your cup of tea:
Software Engineer (Audio Perception Researcher)
You will be working in a challenging environment to research psychoacoustic and audio perception distinctions.
Deep knowledge in human factors, audiology, and psychoacoustic
Spatialized audio
Speech recognition
Wake-on-voice
Acoustic echo cancellation and beamforming
Voice over LTE (VoLTE)
Good knowledge of audio routing within android
Or, if you're into gaming, why not assist Magic Leap with the "ultimate robot-disintegrating science fiction experience"? In New Zealand, no less:
Technical Artist (New Zealand)
Magic Leap and Weta Workshop are collaborating on a truly next-generation Dr. Grordbort's first person shooter on a world-changing new platform in an effort to defend Earth from robotic overthrow.
We are looking for a Technical Artist with an insatiable desire to deliver awe-inspiring work to join our growing team in New Zealand and help us build the ultimate robot-disintegrating science-fiction experience.
Conceptualization
Maybe you're more of a curator and less of a creator. Turn your wildest imaginations into (augmented) reality as a producer — and simply will others into doing what you think might be best:
A Producer leads day to day management of Magic Leap content projects. Producers will be in the trenches with artists, designers and programmers defining the project and how best to bring ideas to life in Cinematic Reality.
Should be knowledgeable of various production methodologies, experienced in leading teams through prototyping and iterative software development
Must welcome challenges, be comfortable working with new technologies and have a proven track record of creating innovative interactive game experiences
In terms of Magic Leap's odds of success (and ensuing world domination), the following job might be one of the most important. A beautiful, simplistic, and intuitive user interface (UI) and user experience (UX) is crucial to a technology's success.
Principal Interaction Designer
A Principal Interaction Designer helps imagine, define, and create a next‐generation computing platform. He or she conceptualizes and executes UI and UX concepts beyond existing computing paradigms in a fast‐paced environment while always keeping user needs at the forefront.
Work with Design and Systems to establish benchmarks and other engineering targets
Work with Software to ensure that design is being developed as expected
Work with Content and Visual Design to ensure consistent interaction and tone throughout experience
10+ years of relevant professional and creative experience
Interest in technology and curiosity around the future of computing and experience platforms
And if you're completely and utterly unqualified for all of the above options, don't fret: maybe you can score an internship. (Aside from a probable, comparative lack of those pesky dollar bills, an internship be the best gig of them all: low pressure, high intellectual and visceral rewards, and the chance to see what Magic Leap's all about before it even hits the streets.)
We are looking for graduate students and advanced undergraduate students for internships at our Florida office. These positions are for any time of the year and can span 3 months to a year in duration.