Resident NASA Composer Yanni Imagines a Sexier Future with 'Sensuous Chill'
The millions-selling Greek New Age musician and space enthusiast has an album out today, and every question about it can be answered by the title.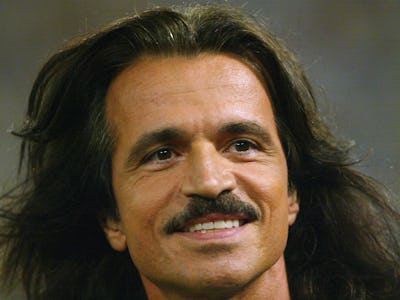 Jed Jacobsohn/Getty Images
"The new album is called Sensuous Chill, and that's what it is. It knows what it wants to be."
This is how Yanni begins his most recent interview, with The Wall Street Journal. You may scoff, Millennial Reader, but to a healthy portion of the world, a new Yanni album is a major event. The Greek keyboardist, composer, and major innovator of "New Age" as we know it has sold more than 25 million records in his career. Along with Enya, he is one of the most successful New Age artists ever; without him, the term would doubtless not be a household name. He still is a phone-in for major PBS specials, including one — Live From the Great Pyramids of Egypt! — debuting this March.
The man has been writing music for astronauts and cosmonauts for the past several years, visiting Star City in Russia and meeting with personnel. The nature of his agreement with NASA is a bit unclear, but here's a December video for a piece they commissioned from him:
And here's a video of a U.S. astronaut directed to Yanni fans, filmed in conjunction with the upcoming Pyramids concert:
A stock Yanni bio reads:
"He has become a spokesperson for NASA as they have found YANNI's message to be closely aligned with theirs. Josh Byerly, NASA's Public Affairs Officer states, 'Our astronauts aboard the International Space Station often speak about how there are no boundaries, no borders in space. We are truly one human kind. Yanni has conveyed the same message through is music.'"
There is doubtless a need for "chill" in the vastness of space.
Yanni had another pertinent comment about his new album in his WSJ interview, which is definitely more intensely rhythmic and trip-hoppy in affect than anything he has previously released. "I also wanted it to be sexy, and last a long time." It's 67 minutes of peak, modernistic Yanni — electronic breakbeats infused with world music gestures, especially toward the folk and classical music of his homeland. Sensual female vocals run through the album, particularly the wordless sighs of "The Keeper" and the funky "Desert Soul," the album's promotional single and best track:
Yes, it sort of sounds like a Moby remix of Sting's "Desert Rose," and that's OK. Here's the thing: Yanni has a panda given to him by the Chinese government. It's named Santorini, after an island in Greece and also Yanni's best song. Yanni is going to sell 50,000-100,000 of this thing easy; will you be one? Will your mother be one? One or both of you could be getting down along these lines at just a click of a button:
Sample Sensuous Chill below.