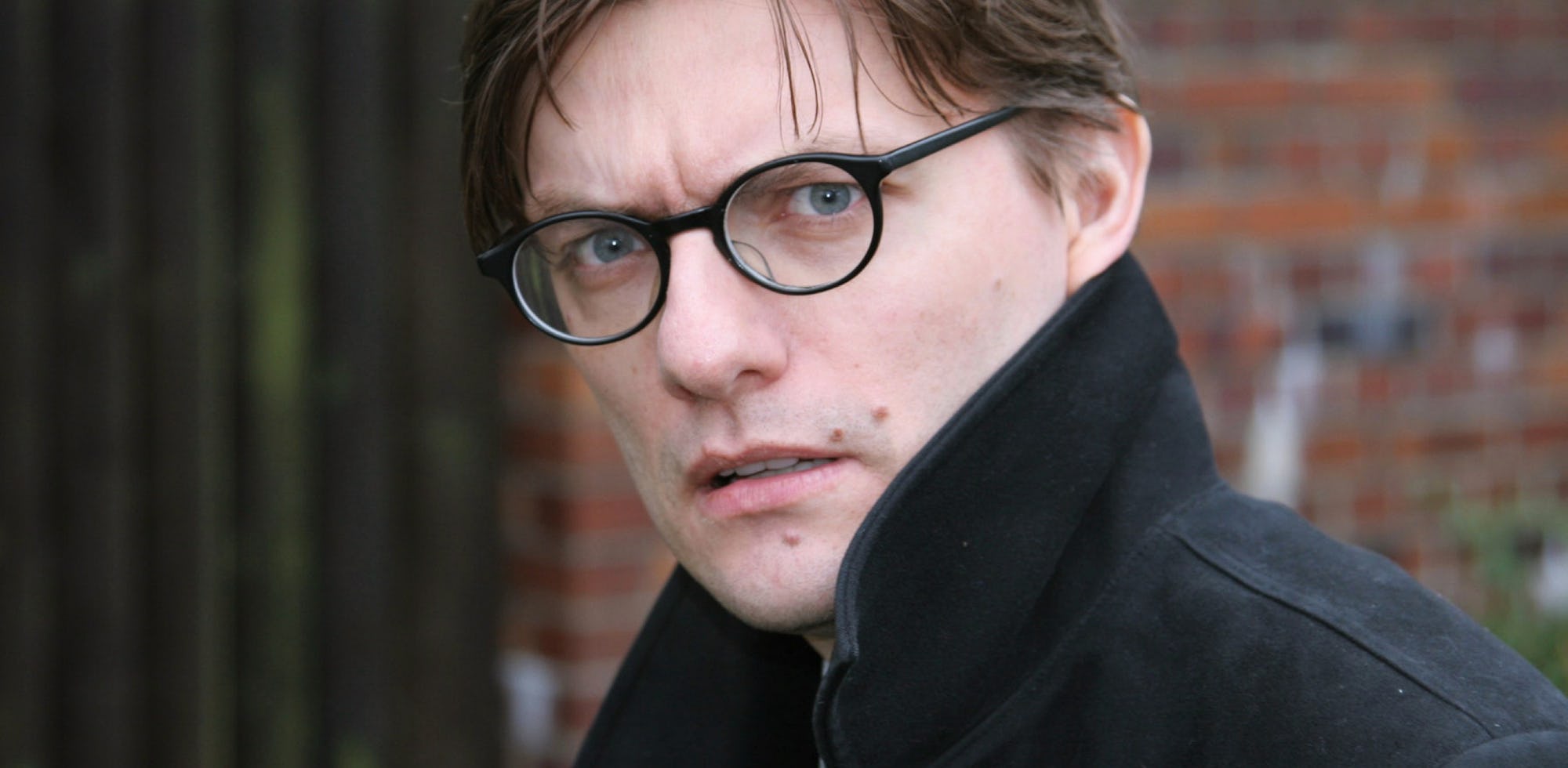 Entertainment
James Urbaniak Talks 'Venture Bros.,' David Bowie, and 'Difficult People'
"I tend to play murderous psychopaths, so it's rare that I get to play a normal nice guy, and they knew that would be funny."
Back in 2003, I had Adult Swim playing on the TV in my bedroom late at night, when suddenly an annoyed voice started shouting "Brock" repeatedly. That being my name, I thought it was some kind of prank, and it took a few minutes to realize that the show premiering on the network did in fact feature a character named Brock, whose only solution to problems was either killing or fucking or some combination of the two. I was instantly sold on The Venture Bros.
In 2010, after a performance of The Thrilling Adventure Hour at Largo in L.A., I got a chance to grab a beer with the guy who shouts at Brock professionally on one of the most intricately plotted cartoon shows to ever make it to television. James Urbaniak, the voice of Dr. Venture (and a number of other characters on the show) told me all about how weird it is to come up as a Broadway actor, and then find your breakthrough roles in indie cinema and ultra-bizarre adult cartoons.
Now, Urbaniak is everywhere: Teen Wolf, Agent Carter, You're the Worst, Review … he has become an impossible-to-avoid character actor, surprising even himself. He took a break from filming the second season of Difficult People to talk with me about the new season of The Venture Bros. and what it's like to have your career suddenly click.
You've been playing Dr. Venture for almost 15 years. When you first came onto the project did you think it would have any kind of lifespan or following it does now?
It came about because Jackson Publick was a friend of a friend who asked me to do this pilot. Has it been that long? Wow. We did the pilot and it became a real show fairly quickly after that, but even with that many years of production, we're only now entering our sixth season to air. There's such a long turnaround.
I understand that Doc Hammer and Jackson Publick making the show, basically, by themselves is what leads to such a long gap between seasons.
There are really great people that they work with, but yeah, the two of them write the show by themselves. They have such a specific vision and they take the time to get it right, which I applaud them for.
A few years ago Doc Hammer and I were at Dragon Con in a Venture Bros. trivia game and we did terrible. Just got slaughtered by a group of fans. My knowledge of the show is … well, it was funny when you asked me to interview me, because my Season 6 stuff was recorded more than a year ago. So by the time this show airs, I'm watching it as a brand-new viewer.
Did it ever surprise you that the Ventureverse got so complicated and interwoven so quickly? It's a big, beautiful thing and I feel like few TV shows hammer the small details in this fashion.
Well, there's two things going on. It's influenced by the stuff they love: books and comics and bands. And within those universes are all these new ideas. My job is to show up a few months out of the year and record these lines, so those threads are difficult to maintain on my end. Sometimes I have to stop and ask what it is we're talking about, but I do my homework too. Usually, right before we record, I pull up the Venture Wikipedia and brush up.
The sixth season moves the family and the show to New York City. Any idea why?
We get to start from scratch again. There's all these new characters and villains, but also this entire aesthetic. Doc and Jackson are such New York guys, I think it's just a pleasure for them to capture the city through their eyes. The visual aspect really goes up a notch, and longtime viewers of the show know that the animation is always improving.
Walk me through your recording process on the show.
Everybody is recorded separately. I get the scripts and record my lines and Jackson directs in a very meticulous fashion. Jackson really knows what he wants, performance-wise. He will get very specific. We do lots of alternate takes. Dr. Venture is also usually undergoing some form of physical duress — falling or getting punched. When you get punched in the stomach, Jackson really wants the realism of you getting punched in the stomach so we often save those recordings for last. After six seasons I've started asking, "Don't you have enough? Can't we Wilhelm scream some of these?" And then he explains to me why I actually have to hurt myself again for his art.
You're also the voice of the devious turncoat Phantom Limb on the show. What inspired his voice?
That's a fun one. That one popped up fully formed. Jackson showed me the sketch of the character and described him as an Errol Flynn type, so I did a British baritone that is influenced by a bit of Ian McKellen by how he luxuriates his vowels. Some of it is George Sanders, the character actor who most people know as the leopard [the tiger, Shere Khan] from The Jungle Book — with this smooth mid-Atlantic voice. At first, it was about using my lower register and moving closer to the microphone. Dr. Venture is of course my own voice, just a little more stressed out. And usually being punched or falling.
We just lost David Bowie, who you played so expertly on the show as the greatest supervillain in the world. How did his passing affect you, as a professional Bowie impersonator?
That was a big one. I was in high school when John Lennon was killed and I don't remember a death since then having that much of a reverberation for me or the world. It was amazing how universally beloved he was. You can't think of a typical "Bowie fan" — all different types of people loved him. On Ventures, we've always displayed him as a comic tribute, but it is born of absolute love and reverence.
My silly impression of him is something I'd actually done for years. I saw him on stage twice: once on the Glass Spider Tour in '85 and in high school in '79 he was in the original broadway production of The Elephant Man — such a compelling figure. When he was on stage, you couldn't look anywhere else.
On the Hulu show Difficult People you seem to be having a great time playing Arthur, which is a different kind of role for you.
I'm an old friend of Julie Klausner's, and in the early 2000s — when she was very young, I might add — we did a lot of video sketches and podcasts and things. A couple years ago she was visiting L.A. and said she had a show with a part for me, but you know how Hollywood stuff goes — you can't get your hopes up. Almost one year later she called and said "OK, we're filming the pilot now. Come out." And we made the show.
Now we're shooting Season 2. I love doing it and I love that my character is a straight man. I'm the Cheryl David to her Larry David, and that's such a difficult role to play. I'm the patient, infinitely understanding person. In my acting career I tend to play murderous psychopaths, so it's rare that I get to play a normal, nice guy, and I think Julie knew that would be funny. We just land immediately as a romantic couple because we know each other so well. Playing a character who is not a lunatic is a challenge for me. I tip my hat to her for casting outside the box. Between this and Ventures, I'm really getting to do a lot of New York acting.
In the fundraiser episode of Difficult People, I was waiting for Arthur to finally explode and go full Urbaniak.
Arthur does kind of break. Julie writes very perceptively about relationships. It's a big, hilarious show, but there are some painfully honest looks at couple dynamics, and I think you'll see a lot more of that in Season 2.
Late last year I was catching up on a bunch of shows around the time Difficult People came out, and I wound up in an Urbaniak black hole where I couldn't watching anything you weren't in. I was cycling between that show and Review, Agent Carter, You're the Worst, and then I turned on a Brooklyn Nine-Nine and you came into screen. I threw my hands up in the air.
I had a little streak last year! You also do this long enough and, at some point, people know you. I'm friends with Stephen Falk from You're the Worst and Ken Jeong put me on his show Dr. Ken. I enjoyed that illusion of success. Actors are also very doubting and insecure. It took this to think I was a professional actor actually making a living. You have to see yourself making it on that level before the idea even starts to creep in that you might be successful at this? It still feels weird to admit. I don't want to jinx anything.
You've been doing a lot of indie work still. I just interviewed the Nee brothers and found out you were in their debut film The Last Romantic and you're in the upcoming Dave Made a Maze that should be coming out this year.
Dave Made a Maze is such a great independent film with a great cast. It's a pastiche of '80s quest movies like Labyrinth or The Dark Crystal, except with all these small practical effects and set against the idea of slacker 30s characters, instead of an allegory for adolescent. I wanted to be in Band of Robbers, but for scheduling reasons it didn't work out, which was a bummer because they're great to work with and it was a great script. Unfortunately, filming hit during my aforementioned busy period.
The release of the indie film Ned Rifle marks almost 20 years of working with Hal Hartley since you made Henry Fool together. Tell me about your relationship with him?
We worked together in 1994 on a couple of short films. The big thing for me was, of course Henry Fool, which we shot in 1997. A few years later Fay Grim was a sequel, and Ned Rifle gets the gang back together for the final caper. That was a very touching experience to get back together with Tom Ryan and Parker Posey. The boy from Henry Fool is now the lead. Hal is a really important figure in my life. Henry Fool was my first big thing, in terms of film roles. That was the transition for me because I was doing off-off Broadway in New York but I basically spent my 20s doing theater for no money — by choice, I loved it. But Henry Fool came in my early 30s and that was my transition into film and TV. For a lot of reasons it was just creatively thrilling. That was the transition to getting paid. It's hard to get an agent without work and it's hard to get work — you know the catch-22. Suddenly, I was in a movie and that meant I was starring in a movie! So I'll work with that guy at the drop of a hat. He's a genuine artist and it's been a real privilege to be part of his company.
Venture Brothers Season 6 premieres Sunday night on Cartoon Network. You can follow James Urbaniak on Twitter.