That Obscure Comedy Show You're Looking For Is Probably on Seeso
One month in, the specialized streaming service might be the way of the future for those who only use Netflix to binge comedies, anyway.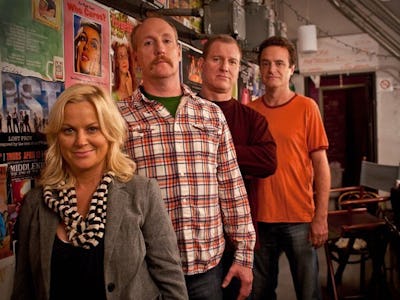 With less than a month under its belt, NBCUniversal's uniquely-named subscription service Seeso is steadily gaining stream. In the crowded field of streaming services, dominated by a certain behemoth, the ad-free service is holding its own by bringing together comedy from across a multitude of mediums, from sitcoms to the animated.
Focusing strictly on comedies, Seeso brings together well-known titles and more obscure fan-favorites including Parks and Recreation, The Office (US and UK versions), The IT Crowd, The Kids in the Hall, Monty Python classics, and more. The site doesn't just look backwards either, as subscribers can get next-day access to full episodes of The Tonight Show Starring Jimmy Fallon and Late Night With Seth Meyers. And did we mention a Saturday Night Live archive that goes back four decades?
Seeso seeks to adopt a model closer to television by releasing new episodes on a weekly basis, as opposed to the all-in-one binge-watch model. If name recognition counts for anything, Seeso might make be around for the long run, considering its powerhouse stable of creators, including Matt Walsh, Amy Poehler, and Dan Harmon. Look for a revival of the Upright Citizens Brigade show. And did we mention the price? Only $3.99 per month.
The service hopes to capitalize on the fact that many comedians have become recognizable icons by pursuing independent projects. Shows like Aziz Ansari's Master of None and Comedy Central's Inside Amy Schumer continue to perform big for competitors and the service hopes to draw in that specific crowd with original content from the likes of Dan Harmon, who already made baby steps in the streaming world with Community's one-season Yahoo Screen revival — another streaming service that quietly shut its doors recently. By defining itself as a comedy venue, rather than an amorphous streaming entity, Seeso, on the other hand, looks to avoid that grim fate.