What It Looks Like When You're Intercepted by an F-15
The Civil Air Patrol and the Air Force have released this video ahead of the Super Bowl.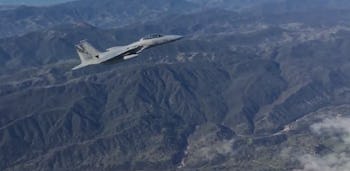 Since 2001, air space over wherever the Super Bowl is held is considered a "No Fly Zone" and enforced by Air Force F-15s, and a video released today shows just what it's like to have an F-15 pull up alongside you.
The Civil Air Patrol — a government-supported non-profit auxiliary of the U.S. Air Force — describes the process like this:
In order to help train Air Force fighter aircrews and maintain their proficiency, Civil Air Patrol flies its Cessna airplanes into "restricted airspace" to simulate a trespassing aircraft while Air Force jet crews practice intercept techniques. The Air Force pilots fly alongside the CAP plane, make radio contact and guide it out of the restricted airspace.
The Civil Air Patrol's California Wing will fly another training mission on February 3 in Oakland.
The 50th Super Bowl goes down at 3:25 p.m. on Sunday, February 7 at Levi's Stadium in Santa Clara, California. Back in September, Santa Clara instituted a "No Fly Zone" for a half-mile around the stadium, which, in addition to any Cessna planes, also includes drones.
"Because drones do pose a threat to public safety, that was the catalyst that brought forward this ordinance to the council," Yamaguma told GovTech. "This is an object that can really lead to a real threat."