FX's 'Baskets' Is the Perfect Vehicle for Galifianakis' Comedy
Zach Galifianakis' new show is the breakout hit the star deserves, for an audience that knows he's earned it.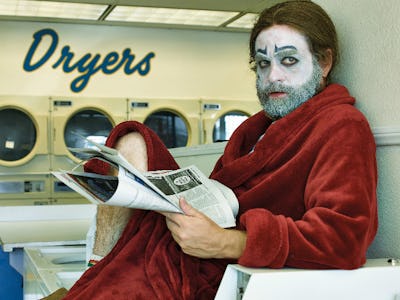 Fair warning: if you found yourself tearing up — or downright sobbing — during this first episode of Zach Galifianakis' Baskets, take comfort in knowing that you were not alone.
For those of us who followed Galifianakis' career well before The Hangover, it has been a somewhat grueling wait to see him on a project that is not only worthy of his talents, but also matches the very specific worldview that is at the heart of his comedy. That project has finally arrived.
But first, a look back at our Galifianakhistory:
Late World With Zach premiered in the spring of 2002 on VH1 and ran for 36 episodes before cancellation. The show featured a beardless Galifianakis stumbling through the late night format. It was a memorable introduction to the actor's particular brand of anti-comedy, but, ultimately, it was a struggle to watch him wrestle with the highly-structured formula of such programming. That tension is palpable in many of his interviews, including this one with a pre-The Hangover Bradley Cooper more than seven years before the two were costars in the blockbuster.
A few years later, Galifianakis would be the highlight of Patton Oswalt's The Comedians of Comedy tour documentary where we meet a more fragile and sardonic performer. In 2005, his Live at the Purple Onion comedy special cemented his dislike for audience expectations. He also nailed his particular brand of earnest antagonism that became Funny or Die's bread and butter in the Between Two Ferns web series.
Which brings us to Baskets.
Finally, Galifianakis isn't playing the lovable weirdo or the spazz. Instead, we meet him as a very grounded and simple man whose only ambition in life is to become a clown. Not the kind of clown you might book for a children's birthday party, but rather a performer of the grand tradition of slapstick artistry. This pursuit has taken him to a clown college — in France — where things quickly fall apart. The series find him back in his hometown of Bakersfield, California, taking on the only gig he can find in his chosen field: rodeo clown.
There's a sadness to the show that speaks to all artists. The show openly addresses the reality that there will always be people to remind you that working at Arby's is a better option recklessly pursuing of your silly dreams. Galifianakis realistically wavers in his pursuit, realizing that his ambitions have eliminated all hopes for his personal happiness. The pilot revolves around "Baskets"' — Galifianakis' alter ego — inability to raise $40 in his hometown to get cable TV for a girl who doesn't love him. (The bleakest piece of character motivation we've seen in quite a while.) Baskets is a clown who never smiles and, truly, he has no reason to.
Louis C.K.'s co-writing and production shine through, and the show achieves a visual tone and "indie" sensibility that make it an excellent sister show to Louie. Unlike that darker counterpart, Baskets is more at peace exploring smaller ideas and quieter moments without cartoonish reversals. More importantly, it has the confidence to let its titular character be a genuine person, who isn't a piece-of-shit without reason and has his own unique sense of morality. The show stands on the inherent sadness of attempting to create high art in low places.
Those who know Galifianakis from his broader work will probably be disappointed in the dark internalized sorrow on display here, but that's OK: Baskets comes off as a rumination on the nature of performing arts and Galifianakis has definitely earned this platform for himself.