DeLorean Plans to Go Back Into Production
The iconic car with 'Back to The Future' cred could possibly return in a limited capacity (without a flux capacitor.)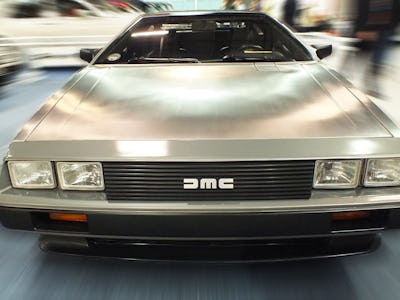 Pauls Imaging Photography | Flickr Creative Commons
The DeLorean Motor Company has announced it plans to reproduce a limited run of its iconic 1982 sports car that found its greatest fame as the time machine in the Back to The Future film series.
As announced on its Facebook page Wednesday, DeLorean "has been working for some time to identify a supplier for engines and other parts that must be reproduced to allow production for 2017."
When the Low Volume Motor Vehicle Manufacturers Act (H.R. 2675) became law in December of 2015, the regulations that applied to mass-production of cars was eased for smaller companies, allowing for the production of "not more than 500 replica motor vehicles per year." This gives DeLorean the OK to put together a small batch of its instantly recognizable DMC-12 models without having to satisfy modern safety regulations. The company's website does indicate it will meet current Clean Air Act standards "by installing an engine and emissions equipment produced by another automaker (GM, Ford, etc.) for a similar EPA-certified vehicle configuration or a create engine that has been granted a California Air Resources Board Executive Order."
What's likely important to potential customers will be in place — namely the look — its stainless steel exterior and those gull-wing doors Marty McFly popped on the regular.
Now, for a Back to The Future tangent. Look how Michael J. Fox thanked Lea Thompson for raising money for Parkinson's disease research on Twitter:
If you're a fan, that's a good one.