R.L. Stine Loves Killing Teenagers, Hates Giving Them Cell Phones
The highlights from the 'Goosebumps' author's Reddit AMA were scary, maybe.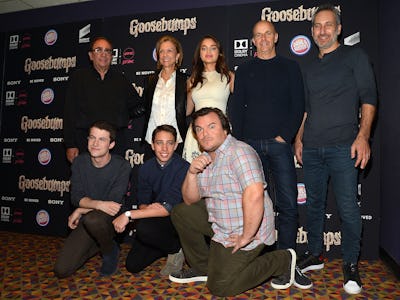 Slaven Vlasic/Getty Images
Master of childhood horror R.L. Stine did a Reddit AMA today and revealed the following nuggets of wisdom about horror for kids, his career, and more.
His career didn't take off into he veered into horror
"I wrote funny books for years," he says. "But I didn't make a name for myself until I got scary."
He plays favorites
Stine admits his favorite Goosebumps books are The Haunted Mask, Attack of the Mutant, and Here Comes the Shaggedy.
He admits his mistakes
His least favorite Goosebumps books are The Barking Ghost and Go Eat Worms!
He thinks Jack Black is mean
When asked if he thought Jack Black did a good job representing him onscreen, Stine replied, "Jack was a lot meaner than me. He decided to be a sinister version of me, and I thought he was hilarious."
"Back in the '90s, I had to write a … book every two weeks," he says. "I don't know how I did it. 24 novels a year!"
He likes killing teenagers
"Goosebumps is my favorite series to write," he says. "Although I do love killing teenagers in Fear Street."
He's not that different from your dad
"Horror writers don't necessarily live horrifying lives," he says. "I guess people would be surprised to learn that I'm a big Jimmy Buffet fan. Also, since I live near Lincoln Center, I'm a devoted fan of the Metropolitan Opera and a number of ballet companies. Not too horrifying."
Cell phones are a pain in the ass to the modern horror writer
"Here's what's made teen horror harder to write these days: cell phones," he says. "Cell phones ruin every scary plot. The person just has to take her phone and call for help."
The key to scaring kids is avoiding the real world
"I think as long as kids know the story is a fantasy and could never really happen, you can get pretty scary," he says. "But I tend to be careful — no real-world problems."
See the entire AMA here.