'The Raid' Director Gareth Evans Just Released This Action-Packed Samurai Film
Evans' black and white short film is his first movie since 2014's 'The Raid 2.'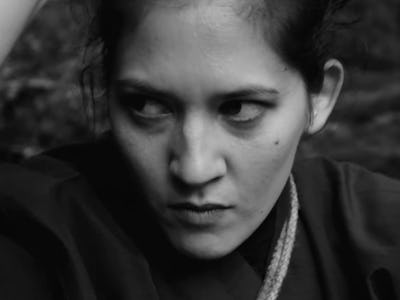 YouTube
When one of the best action directors in the world puts something out for free, you better watch it. Indonesia-based Welsh director Gareth Evans just released a new short film on YouTube that may signal his return.
The five-minute short is about a lone female samurai fending off two attackers in a wooded area. Do you need to know more than that? Nope.
But if you'd like some context from Evans himself, here's the official synopsis:
"In a time of civil war, a young warrior is given the task of delivering a treaty between two rival lords. During her journey through the woods however, she finds herself hunted by two assassins intent on intercepting her message of peace in a bid to maintain the fear, instability and violent rule of their leader."
All that amounts to two incredibly badass crisp black and white fight scenes, which were designed and performed by three veterans of Evans' previous movies.
Yayan Ruhian, the Indonesian actor that starred in Evans' Raid movies and even has a cameo in Star Wars: The Force Awakens as one of the criminals that tries to kill Han Solo, plays the assassin in white.
Cecep Arif Rahman, aka the main maniacal bad dude in The Raid 2 — also directed by Evans — is the assassin in black, while Hannah Al Rashid, who was in Evans' unbelievably bloody segment in the anthology horror movie V/H/S/2, plays the young warrior.
Evans tweeted about the quickly-shot, DIY affair on his Twitter account and gave a little backstory on the surprise release:
The experiment of sorts was created to try to stay within PG-13 parameters, which Evans has wholeheartedly stayed away from given his pleasantly violent filmography so far. And it's kind of adorable that Evans basically shot the short out of a combination of boredom and the fact that he wanted to show his kid one of his movies. The Raid 2 has scenes that might scar a kid for life.
The short is one of the most deftly made and action-packed student films you'll ever see, and aside from some obviously rubber-looking swords there's not much to complain about. Hopefully this means Evans gets behind a feature film again very soon. His IMDb page says he's working on a secret action drama called Blister right now. But until then, bask in the PG-13 awesomeness of the short to appreciate Evans' brand of epic action carnage.