There's an Edward SNOWden Snowman in Front of the White House
For snow, it looks an awful lot like him.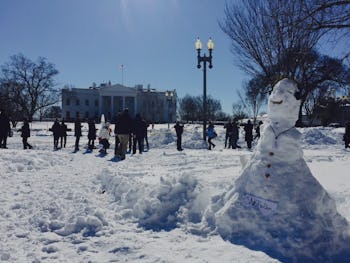 National security whistleblower/villain/hero Edward Snowden may not be legally allowed to roam the streets of Washington, D.C., but a snowy visage of the former CIA employee and NSA contractor has appeared on the White House lawn today:
There's no telling how long the snowman will stick around, but it's not the first time an image of the man who exposed global surveillance programs conducted by the United States has been honored stateside. (Snowden currently has temporary asylum in Russia.)
As Snowden himself pointed out on Sunday, a bust of his face appeared overnight back in April at a war monument in Brooklyn. It didn't take long before the New York City Parks Department covered the bust with a tarp and eventually removed it.
Snowden has developed a strange cult following during his time abroad, and he recently posted on his Twitter account a polite refusal of the various romantic offers he's received. This is to say nothing of the galleries of Snowden fan art available via Google Image search.