Watch and Learn How to Make 3D Origami Hearts for Valentine's Day
It costs nearly nothing, but it's the thoughtful dexterity that counts.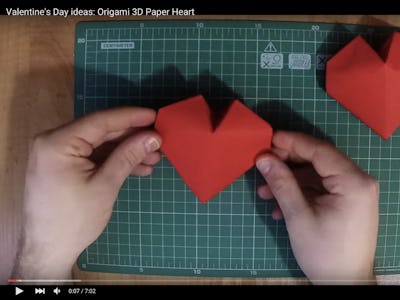 YouTube
Hey all you lazy and forgetful — but still thoughtful — romantics out there. Need a quick and easy idea to charm your significant other with this Valentine's Day gift that says you're crafty but don't need to spend tons of money? This YouTube channel has just what you need.
This sped up, seven-minute clip by YouTube user DIYwithME — which features some pretty chill piano music — is a tutorial about how to make a fast, cheap, and simple 3D origami heart that turns this:
Into this:
A couple of folds here, a fold there, some pressure along the edges of the paper and voila, any idiot can turn any square piece of preferably red paper into their very own origami Valentine's heart. Make one and you'll also make your significant other forget that you probably didn't remember to get them a better gift or a card.
The rest of the YouTube channel is filled with some origami DIY goodness so if you're in need of paper jumping frogs, paper versions of the glasses from the "Deal with it" meme, or a regular old paper flower then click on over. It'll give you some equally fast, cheap, and simple ideas for birthdays and other easily forgettable milestones.