LAPD Charges Two Drone Pilots for Flying Violations
The California city cracks down on potentially dangerous drone flying.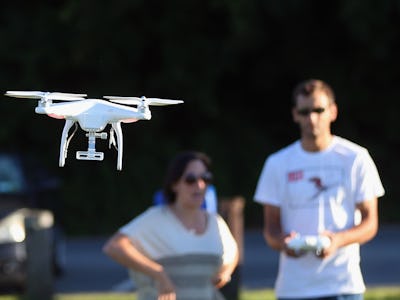 Getty Images
Two drone pilots face criminal charges after allegedly violating Los Angeles' new unmanned aircraft rules. In separate incidents, Mike Ponce and Arvel Chappell were cited for flying drones — the former too close to a hospital "at a time other than daylight" and the latter near an LAPD heliport. If convicted, they could spend up to six months in jail, Los Angeles city attorney Mike Feuer said.
The charges come just a few months after the Los Angeles City Council approved local ordinances defining where and how people can fly drones. The rules are similar to the Federal Aviation Administration guidelines, though you get an extra 100 feet in LA (500 instead of 400), with the additional caveat you are forbidden to fly within 25 feet of another person or five miles of an airport.
If the charges stick and jail time sentenced, these men will be some of the first to be imprisoned for illegally flying a drone in the United States; in the UK, a man was fined more than $3,500 for flying a drone too close to a soccer match. In 2015, a law student was charged with second-degree wanton endangerment for flying a drone near a Kentucky college football stadium.
There are possible technical solutions coming to make it tougher to fly unmanned vehicles illegally. Drone maker DJI launched the beta of its GPS-based geofencing map system on December 31, which forces pilots to manually override a drone that senses it's in a restricted area. But technology alone can't keep drone operators from misusing their devices. Which, of course, is a shame for the average rule-abiding UAV pilot, because most people who fly drones — like most people who drive cars — don't do so recklessly.