Get Lost in Poland's Massive, Record-Breaking Ice Maze
Feast your eyes on 2,500 square meters of frosted wonder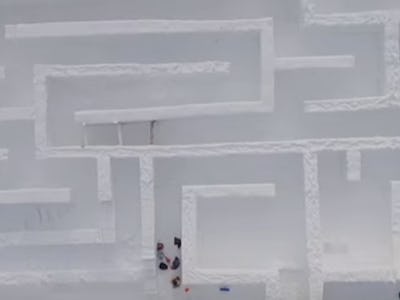 Mashable
The dead of winter can be a bit of a drag, unless of course you're navigating your way through an interactive puzzle made entirely out of ice and snow. Located in a quiet resort town in Zakopane, Poland, designers Darek Pytlik and Artur Haber have constructed a maze of earth- and record-shattering proportions.
Designing this labyrinthine wonder was no easy feat for Pytlik and Haber or the 40 mountaineers and professional builders responsible for the icy web. In an interview with Mashable, Pytlik explained that they endured "many sleepless nights" over the four-month-long endurance trial against the forces of nature.
While combating rising temperatures, as well as the daily challenges involved in manually cutting 60 thousand snow cubes, the design crew had to work around the unprecedented thaws that set back their progress. Upon its recent completion, the maze was not only a success, but at 2,500 square meters, it doubled the dimensions of the previous Guinness World Record achieved during Buffalo, New York's Powder Keg Festival back in February of 2010.
The project, which began in November, will be open to the public on January 23. Excluding airfare, admission to the gargantuan maze is completely free.