What to Expect from Chairlift's Unsurprising but Expertly Crafted New Album 'Moth'
Chairlift takes a step up, putting a new spin on burgeoning trends.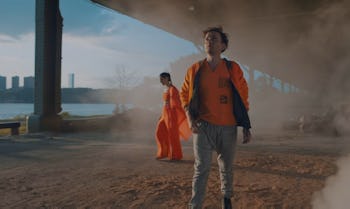 Chairlift Facebook
Boulder-reared Brooklyn electro-pop unit Chairlift built their reputation (read: scored a major label deal) by helping define an wave of '80s nostalgia in late aughts indie. They set themselves apart from the herd by virtue of their ever-developing songwriting chops and unrepentant market-savviness. The group's third album illustrates how far they've some since their days consorting with Das Racist and jumping around to drum-machine default settings.
Moth — their first project in over three years — mixes the melodic sensibilities of Feist/Sade/Christine McVie that singer Caroline Polachek has always dabbled in, and the production style of modern R&B and dance music into the hippest possible cocktail. There are still the intrusive, uncategorizable samples of their earlier work — courtesy of Patrick Wimberly — woven through these songs, but the pop-crack value system of their previous two albums has been even more doubled down upon. In other words, Moth is an indie-band-gone-major album in the most logical — and generally, enjoyable — sense.
Chairlift has always been good at sounding of-the-moment, and here, the duo updates their retro-futurist, sample-heavy ethos for a current moment when pop is steeped in more silken, adult-contemporary-derived tones. Songs like "Polymorphing" add light horn backgrounds which wouldn't have even been a consideration three years ago, and provide an instructive counterpoint to the tortured, atonal trumpet that weaves through the closing minute of "Garbage," the opener on their 2008 debut Does You Inspire You.
The textures on Moth are fuller, comforting and well-padded, worlds away from the stark, post- "Close to Me" twee shuffle of their breakthrough track "Bruises." Music has changed a lot in seven years, or even three: The agitated post-punk leanings of much of the music on 2012's Something have relatively little to do with anything on Moth. Tracks like "Romeo" possess more serrated sonics, but creates more modern resonances — particularly, with the recent work of Vancouver singer-songwriter Grimes, who also has built a diverse fan base by toeing the line between pop and indie. Occasionally, Chairlift tap back into the same faux-unpolished pop approach, preworn like a 2008 Urban Outfitters sweater.
Even if the stylistic reference points Chairlift hit on Moth feel a bit calculated — more so in the group's earlier days, when the group's approach felt less time-worn — the record is an exceptional impressive Rube Goldberg machine of ideas, a dense pop tapestry just a couple turns of the screw away from sounding like the work of some sort of fail-safe algorithm for making music to inspire a particularly pleasant Pandora channel. "Ch-Ching" mixes EDM-y speed-ramping sonics with an old-school disco sensibility and quiet-storn R&B, while possessing these dizzyingly well-crafted context a lilting, high-range-traversing chorus that could have been handled by either Ariana Grande or the group's one-time collaborator Beyoncé.
Chairlift walk this line convincingly in large part because Caroline Polachek's voice is pliable and controlled enough to handle it. Sometimes it's legitimately amazing — you almost wonder where she's been hiding these chops when she slides into the cathartic high note in "Show U Off." Swooning choruses like "Sorry for crying in public this way/I'm falling for you" ("Crying in Public") could fit in just as easily on the radio as on a coffee-house-safe playlist. These tracks speak to what the duo does best, and balance out less successful, more experimental and soporific tracks ("Ottawa and Osaka," "No Such Thing").
When Chairlift get lost in perfecting every detail — and cramming what might seem like a couple too many ideas in a given song — they really distinguish themselves, and guarantee that Moth will find a broad audience. The group's sound, perhaps more than ever, is custom-made to appeal to both listeners enamoured with Top 40 and those with more idiosyncratic interests in song form and rhythm. It's an album designed for immediate use, with a questionable shelf life ahead of it, but its almost-nerdily detailed craftsmanship is stunning.
Moth will be available at all digital outlets this Friday.